Jefferies downgrades Persimmon, upgrades Bellway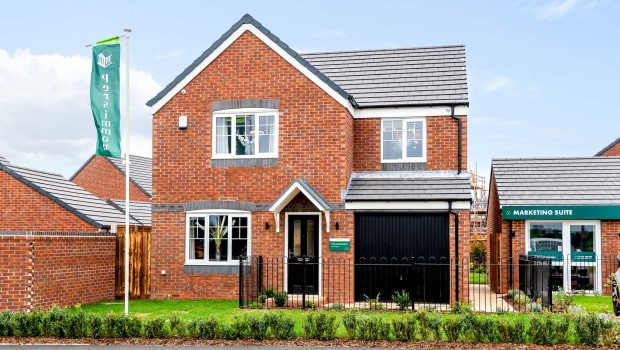 Jefferies downgraded Persimmon and Watkin Jones on Monday but upgraded Bellway as it took a look at UK housebuilders.
On housebuilders more generally, Jefferies said: "While share prices have bounced 10% since our 'last downgrade' report in October, with the sector still trading at a 15% discount P/NTAV we continue to see opportunity."
In the context of a relatively homogeneous sector, the bank said it prefers value at lower risk, but believes those at a premium will need to prove a differentiated model.
Persimmon was cut to 'hold' from 'buy' and the price target reduced to 1,436p from 1,485p.
Jefferies said that with the new dividend policy removing not only the double-digit yield, but also its predictability, and the step-up in fire-safety costs - particularly to remediate defects - suggesting a risk profile no different from peers, "much of what we learned about Persimmon in the past decade appears to have been unwritten".
"The much higher gross margin on its land bank should continue to drive differentiated return on equity. However, investors may likely require continued evidence that intake margins remain structurally higher than peers before Persimmon's valuation returns to its previous premium," it said.
Jefferies said that with near-term forecast changes likely to be sector-driven, and upside potential to capital returns at least 18 months away, it worries the stock price will lack the momentum of others until investors feel comfortable with what the 'new' Persimmon looks like.
The bank downgraded Watkin Jones to 'hold' from 'buy' and slashed the price target to 111p from 225p. Jefferies said that with £75m of cash on the balance sheet and around £150m of after-tax operating profit from forward sales, it can be argued the current market cap of Watkin Jones is underpinned.
"However, until investors feel comfortable, the 'Residential for Rent' model still works for the developer, in a higher interest rate environment we see the stock as range-bound," it said.
Jefferies upgraded Bellway to 'buy' from 'hold' and lifted the price target to 2,458p from 1,928p.
It noted that trading at 0.7x 2023 P/NTAV, Bellway is now one of the cheapest of the UK housebuilders.
"Sitting middle-of-the-road in many aspects in the sector…previously we saw Bellway as un-differentiated. However, staring into a downturn, it has a c-suite with unrivalled housebuilding experience, and its land buying through the last two years positions it not just to better manage its cash near term but also to grow into market improvements when they are seen."
Jefferies reiterated its 'buy' rating on Taylor Wimpey and Berkeley.