Director dealings: Bodycote director's pension invests, Goodwin exec makes family deals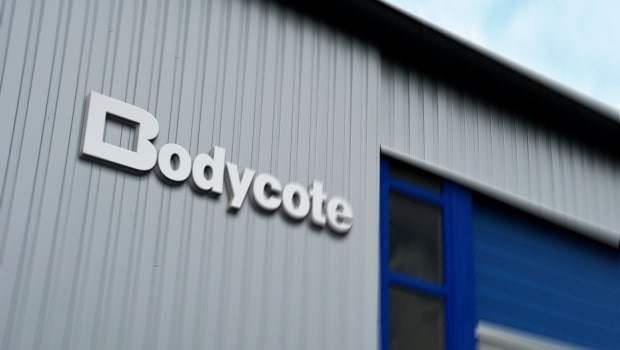 Bodycote disclosed a purchase worth more than £0.1m on Wednesday, after a non-executive director's pension scheme invested in a number of its shares.
The FTSE 250 company said the Willow Bend Pension Scheme bought 16,000 shares at a price of 635p each, valuing the purchase at £101,600.
In its disclosure, it said the Willow Bend scheme is associated with non-executive director Daniel Dayan.
On the selling side of the ledger, engineering services firm Goodwin reported a number of transactions involving the Goodwin family, who hold a number of board positions.
The London-listed firm said executive director Bernard Goodwin bought 723 shares at 3,477p each on Monday, into his ISA account.
Bernard then sold 1,186 shares for 3,210 shares, and used the proceeds to buy 617 shares into his ISA at 3,215p each, and a respective 278 shares into each of his son's and daughter's junior ISAs at a price of 3,221p apiece.
He then bought 157 shares into his daughter's junior ISA for 3,448p each, and 135 shares into his son's junior ISA for 3,454p apiece.
Finally, Bernard purchased 755 shares into his wife's ISA for 3,460p each, with all transactions taking place on Tuesday.
Following the transactions, Goodwin said Bernard's holding had increased to 59,189 shares, or 0.77% of its issued capital, up from 57,432 shares.
Top Director Buys
Symphony International Holdings Ltd. (SIHL)
Director name: Thadani,Anil
Amount purchased: 1,044,679 @ $0.45
Value: $470,105.54

Bodycote (BOY)
Director name: Dayan,Daniel A
Amount purchased: 16,000 @ 635.00p
Value: £101,600.00

International Personal Finance (IPF)
Director name: Thompson,Gary
Amount purchased: 50,000 @ 104.50p
Value: £52,250.00

Symphony International Holdings Ltd. (SIHL)
Director name: Thadani,Anil
Amount purchased: 93,223 @ $0.46
Value: $42,780.04

Goodwin Plc (GDWN)
Director name: Goodwin,Bernard Rafe Ernest
Amount purchased: 755 @ 3,460.00p
Value: £26,123.00

Goodwin Plc (GDWN)
Director name: Goodwin,Bernard Rafe Ernest
Amount purchased: 723 @ 3,477.00p
Value: £25,138.71

British Land Company (BLND)
Director name: Score,Tim
Amount purchased: 4,694 @ 532.54p
Value: £24,997.43

Alliance Trust (ATST)
Director name: Dixon,Josephine
Amount purchased: 2,388 @ 979.42p
Value: £23,388.66

Mercantile Investment Trust (the) (MRC)
Director name: Maltarp,Damien
Amount purchased: 10,000 @ 218.00p
Value: £21,800.00

Petrofac Ltd. (PFC)
Director name: Medori,Rene
Amount purchased: 19,120 @ 104.60p
Value: £19,999.52

Alpha Fx Group (AFX)
Director name: Butters,Tim
Amount purchased: 1,072 @ 1,865.00p
Value: £19,992.80

Goodwin Plc (GDWN)
Director name: Goodwin,Bernard Rafe Ernest
Amount purchased: 617 @ 3,215.00p
Value: £19,836.55

Tristel (TSTL)
Director name: Dixon ,Elizabeth
Amount purchased: 4,000 @ 306.50p
Value: £12,260.00

Intercede Group (IGP)
Director name: Leest ,Klaas van der
Amount purchased: 25,000 @ 49.00p
Value: £12,250.00

Oracle Power (ORCP)
Director name: Memon,Naheed
Amount purchased: 347,398 @ 3.24p
Value: £11,255.70

British Land Company (BLND)
Director name: Goodhew,Irvinder
Amount purchased: 1,916 @ 532.54p
Value: £10,203.47

Goodwin Plc (GDWN)
Director name: Goodwin,Bernard Rafe Ernest
Amount purchased: 278 @ 3,221.00p
Value: £8,954.38

Goodwin Plc (GDWN)
Director name: Goodwin,Bernard Rafe Ernest
Amount purchased: 278 @ 3,215.00p
Value: £8,937.70

British Land Company (BLND)
Director name: Aedy,Mark
Amount purchased: 1,544 @ 532.54p
Value: £8,222.42

Intercede Group (IGP)
Director name: Leest ,Klaas van der
Amount purchased: 15,000 @ 50.00p
Value: £7,500.00

Tristel (TSTL)
Director name: Swinney,Paul Christopher
Amount purchased: 2,350 @ 306.60p
Value: £7,205.10

Rotala (ROL)
Director name: Dunn,Robert
Amount purchased: 22,500 @ 32.00p
Value: £7,200.00

Intercede Group (IGP)
Director name: Leest ,Klaas van der
Amount purchased: 15,000 @ 47.47p
Value: £7,120.01

Goodwin Plc (GDWN)
Director name: Goodwin,Bernard Rafe Ernest
Amount purchased: 157 @ 3,448.00p
Value: £5,413.36

Intercede Group (IGP)
Director name: Leest ,Klaas van der
Amount purchased: 10,000 @ 50.60p
Value: £5,060.00

Petrofac Ltd. (PFC)
Director name: Davies ,David
Amount purchased: 4,780 @ 104.60p
Value: £4,999.88

Petrofac Ltd. (PFC)
Director name: Asfari,Ayman
Amount purchased: 4,780 @ 104.60p
Value: £4,999.88

Petrofac Ltd. (PFC)
Director name: Carlo,Francesca Di
Amount purchased: 4,780 @ 104.60p
Value: £4,999.88

Petrofac Ltd. (PFC)
Director name: Akbar,Sara
Amount purchased: 4,780 @ 104.60p
Value: £4,999.88

Petrofac Ltd. (PFC)
Director name: Pierson ,George J.
Amount purchased: 4,780 @ 104.60p
Value: £4,999.88

Petrofac Ltd. (PFC)
Director name: Bichsel,Matthias
Amount purchased: 4,780 @ 104.60p
Value: £4,999.88

Petrofac Ltd. (PFC)
Director name: Abt ,Andrea
Amount purchased: 4,780 @ 104.60p
Value: £4,999.88

Intercede Group (IGP)
Director name: Leest ,Klaas van der
Amount purchased: 9,700 @ 50.00p
Value: £4,850.00

Goodwin Plc (GDWN)
Director name: Goodwin,Bernard Rafe Ernest
Amount purchased: 135 @ 3,454.00p
Value: £4,662.90

Intercede Group (IGP)
Director name: Leest ,Klaas van der
Amount purchased: 10,000 @ 45.90p
Value: £4,590.00

Intercede Group (IGP)
Director name: Leest ,Klaas van der
Amount purchased: 10,000 @ 45.40p
Value: £4,540.00

Intercede Group (IGP)
Director name: Leest ,Klaas van der
Amount purchased: 10,000 @ 44.45p
Value: £4,445.00

Oracle Power (ORCP)
Director name: Migge,Andreas
Amount purchased: 69,480 @ 3.24p
Value: £2,251.15

Oracle Power (ORCP)
Director name: Hutchins ,David (Sam)
Amount purchased: 52,805 @ 3.24p
Value: £1,710.88

Oracle Power (ORCP)
Director name: Steed,Mark
Amount purchased: 39,603 @ 3.24p
Value: £1,283.14


Top Director Sells
Prudential (PRU)
Director name: Turner,James
Amount sold: 13,822 @ 1,127.41p
Value: £155,831.02

Goodwin Plc (GDWN)
Director name: Goodwin,Bernard Rafe Ernest
Amount sold: 1,186 @ 3,210.00p
Value: £38,070.60

Alpha Fx Group (AFX)
Director name: Butters,Tim
Amount sold: 1,076 @ 1,860.00p
Value: £20,013.60