Sunday share tips: Greggs, Harworth Group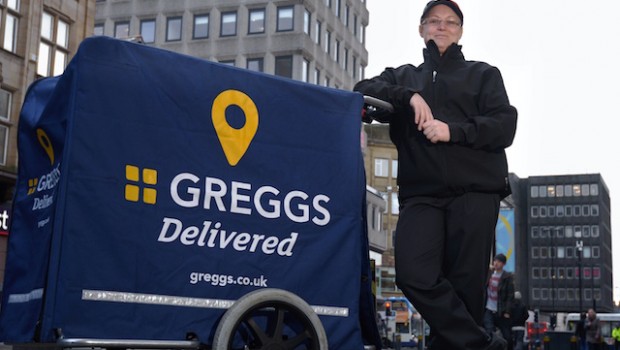 In her 'Inside the City' column for the Sunday Times, Jill Treanor was focussing on bakery chain Greggs, and the 12 months that have passed since it launched it vegan sausage roll.
According to Berenberg analyst Ned Hammond, the product led to a "massive brand awareness spike" for Greggs, which until then was largely known for its more traditional, meat-filled pastry treats.
The vegan sausage roll, however, helped the company to issue five profit upgrades during 2019, and saw its shares surge to a record high of 2,466p in July.
They pared back some of their gains in November, but then earlier this month, the company suggested to the market that it had experienced a record year in 2019, and so would give £7m back to its staff as a bonus.
Last week, it moved towards home delivery, confirming it would partner with Just Eat for the venture.
"This is driven by [chief executive Roger] Whiteside after they took the view that if you are going on a weekly bread shop you're probably going to buy it at a supermarket," said Canaccord Genuity leisure analyst Nigel Parson.
"That was historically their custom. That led to a transformation."
Treanor said that transformation had been ongoing for at least six years now, with Hammon noting that the expansion into coffee and breakfasts had helped it too.
"The big question is can Greggs sustain this positive performance?" asked Parson.
Treanor said the chain was constantly looking to expand, with its latest count showing 2,050 branches - 302 of those franchised - with plans for another 100 this year.
It was also adding more vegan products to its menu, with a stake bake and a doughnut launched this year, while some locations were also trialling late night hours.
That meant there was still some momentum possible, with Treanor noting that sales of the vegan products and some of the other, newer items only make up a small part of the chain's total sales, which were up 13.5% last year.
"If you look at what's really caused the big jump in sales it's actually been - albeit some from the vegan versions - a lot of old-school bakers products," Hammond quipped.
Greggs broke the £1bn sales barrier for the first time last year, while profits rose 15% to £82.6m.
Its figures for 2019 are due in March, with Whiteside having cautioned shareholders about "cost headwinds" in the next year, as the national living wage rises, as does the cost of pork.
"While Greggs is not popular everywhere — its only shop in Cornwall has closed — the shares were within a whisker of their record high on Friday, closing at 2,424p, valuing the chain at £2.5bn," Jill Treanor wrote.
"Hold."
Over in the Mail on Sunday, Joanne Hart was looking at regeneration specialist Harworth Group, and its transformation of a gritty northern mining strike hotspot Orgreave into the much more contemporary Waverley.
She said that, gone is the colliery and coking plant that once employed 700 miners, and in its place were 850 new homes, a huge business park, and more than 2,000 jobs.
It was an exemplar of the kind of regeneration Harworth put its effort into - the kind of places in the Midlands and the North of England where Boris Johnson has signalled serious investment.
But the success of Waverley was no accident, either, given the company's track record of regenerating coal mines - it was initially spun out of UK Coal, and then listed in 2015.
Hart said chief executive Owen Michaelson had spent his career transforming neglected brownfield land into in-demand places, and recently had restructured Harworth's portfolio, by selling off farmland with limited potential and buying new sites in the Midlands and the North West.
It now owns 120 sites across the residential and commercial sectors, spread over 20,000 acres, and was "constantly" looking for new opportunities, making further expansion likely.
Hart said property developers often found they had a "bad name", but Harworth had been working in the North for a number of years, meaning local authorities trusted the business.
She noted that Michaelson had planning permission for 10,000 new homes, with another 10,000 in the permission pipeline, while there was also some serious commercial development underway for tenants ranging from Amazon and Lidl to hundreds of smaller businesses on a local scale.
The company's residential plots are sold to housebuilders once they had received planning permission and the sites were ready for building.
It did retain ownership of its commercial developments, however, bringing in income for the group once tenants take the keys.
That process could sometimes take years, Hart wrote, meaning political uncertainty made 2019 a somewhat challenging year for the firm, adding that Boris Johnson's election victory and promise to invest in the North helping to stoke the flames of confidence.
Harworth is due to release a trading statement on Tuesday, with the markets expecting an upbeat tone, and revenues of around £80m for 2019 and £86m for the current year.
And while Harworth did pay a nominal dividend - likely to be 0.9p in 2019 and 1p for 2020 - it remained mainly a growth stock, given its shares had doubled since listing.
"The UK needs more homes and it needs to boost productivity. Harworth helps on both fronts and its regional focus is a further plus.
"The company is well managed, finances are sound and prospects are fair.
"At 154p the shares are a buy."