Taylor Wimpey reports strong orders after sites reopen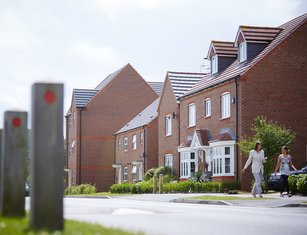 Taylor Wimpey said its order book was strong with a healthy increase in reservations and demand for appointments at reopened show homes.
The FTSE 100 housebuilder said most of its construction sites, sales centres and show homes had reopened and it was on track to reach "meaningful" construction capacity by the end of June. Scottish construction sites are preparing to reopen in line with guidance.
The UK order book has continued to increase and was £2.8bn at the end of May, up from £2.5bn a year earlier. Group completions in the 22 weeks to May fell to 2.455 from 4,052 a year earlier because of site closures during the Covid-19 lockdown.
The UK net sales rate was 0.51 for the week to the end of May, down from 0.85 a year ago, and the rate is 0.72 for the first five months of 2020 compared with 0.99 for the same period in 2019. In the last week of May appointment bookings tripled and website traffic was up 32% from a year earlier.
Taylor Wimpey's trading update appears to show the company bouncing back after closing its building sites and sales centres in March after the government announced the near-shutdown of the economy to stem the spread of Covid-19. The company reopened sales offices and show homes and recalled furloughed employees in late May.
"[The] majority of show homes and sales centres open in England, on an appointment only basis, with a very high level of demand for appointments," Taylor Wimpey said. "Order book remains strong with a healthy increase in reservations made in recent weeks."
The company put discretionary spending on land on hold during the lockdown but it said it had been in talks with potential sellers and expected attractive deals to be on offer against the weak economic backdrop. Taylor Wimpey said it had replaced Deloitte as its auditor with PricewaterhouseCoopers.
Taylor Wimpey said all employees had returned to work from early June. Many are still working from home, including those shielding or looking after someone vulnerable and offices are closed except for essential visits. On construction sites workers are sticking to new rules including social distancing protocols and wearing extra protective equipment.