Sports Direct buys House of Fraser from administrators for £90m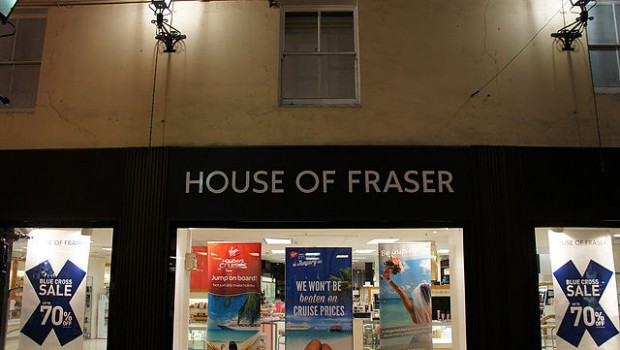 Mike Ashley's Sports Direct International on Friday acquired House of Fraser for £90m after the high street department store chain appointed administrators.
The deal came just hours after House of Fraser called in administrators EY as talks between the department store's investors and creditors "had not concluded in a solvent solution". Going in to administration allowed the company to continue trading as attempts were made to complete a sale and most of its 17,500 staff.
"We will do our best to keep as many stores open as possible. It is vital that we restore the right level of ongoing relationships with the luxury brands. Our deal was conservative, consistent and simple. My ambition is to transform House of Fraser into the Harrods of the High Street," said Ashley.
The acquisition, which could also assist Ashley's long-stated ambition to make Sports Direct the "Selfridges of sport", was confirmed just before 1000 BST on Friday. FTSE 250-listed Sports Direct acquired all of the UK stores of House of Fraser, the House of Fraser brand and all of the stock and assets of the business.
For the year ended 28 January 2017, House of Fraser had gross assets of £946.3m and made £14.7m net profit. The group recently arranged a Company Voluntary Agreement restructuring deal that included 31 store closures and with 6,000 job cuts planned.
There has been speculation that Ashley could merge House of Fraser with high street competitor Debenhams, in which Sports Direct holds a stake of just under 30%.
House of Fraser, one of the founding members of the FTSE 100 but taken private in 2006 by a consortium of investors including Baugur Group and Don McCarthy, has opened all 59 of its stores as usual on Friday, including the 31 that had previously been slated for closure.
Despite potentially saving jobs, union Unite's regional officer Scott Lennon warned that the sportswear retailer is "a leopard that has not changed its spots" and stated that he feared for the employment conditions that employees might have to adapt to going forward.
"Sports Direct's record at the Shirebrook warehouse operation in the East Midlands has been dreadful and, despite the recent terrible publicity, wages remain at the minimum legally payable, and the terms and employment conditions are threadbare," said Lennon.
Administrators were called in following the withdrawal of an offer of support from Chinese firm C.banner, which had planned to raise £70m for investment, which still would have left House of Fraser needing roughly £50m. The funding is essential for the department store chain to pay for rents and stock to last through the busy Christmas trading period.
The business on Thursday set a deadline of 20 August to secure funding after turning down a "lowball" offer to save 31 of its stores earlier this week, with Paul Mckie's Fashion Collective offering to buy the assets and business of each site for between £30,000 and £50,000 per store.
Commenting earlier on speculation over a merger with Debenhams, Neil Wilson, chief market analyst at Markets.com, said: "This would be an exciting development for the retail sector as it could effectively consolidate the two troubled department store chains into a single offering. This appears the only viable solution; combining the operations to reduce overheads and stop competing against each other after a pretty brutal period of sales that has hammered margins."
Analysts at broker Stifel said that while Ashley's plan for the retailer is unknown, but noted the CVA deal had 31 store closures and 6,000 job cuts planned.
"Debenhams' shares were up 3% this morning as House of Fraser's administration appeared final: while short-term pain was expected on the back of HoF's inventory clearance, it would have increased demand for Debenhams and John Lewis over Christmas trading, the most important trading period of the year."