Debenhams bounces over bridge loan, new sourcing partnership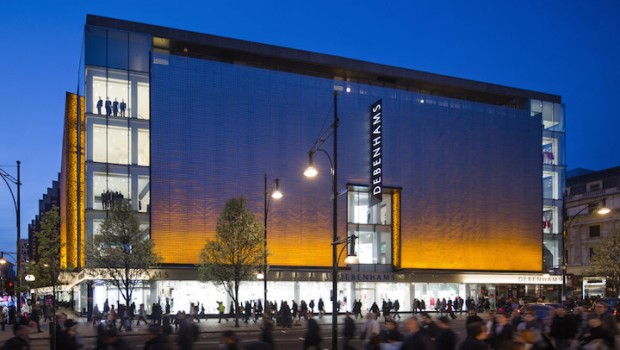 Debenhams has secured a 12-month bridge loan providing as it looks to thrash out a long-term solution to its debts, and has teamed up with a new Hong Kong sourcing partner for its own-brand products.
The department store group said it intends to conclude a comprehensive refinancing "by the end of this period", with the new facility acting "as a bridge" to that end.
As such, Debenhams has signed up to a separate £40m senior secured credit facility from some number of its existing lenders and bondholders, which have also agreed to waive and amend certain terms over its current bank facility. Net debt as of 5 January was £286m, with a committed debt facility of £520m, which expires next year.
Available to draw as required, the new facility will be secured over the assets of the existing guarantors of the current bank loan and the bonds. It pays interest of Libor plus a 5% cash coupon per year and contains provisions for a step-up in pricing during the second quarter of 2019.
"Today's announcement represents the first step in our refinancing process," said chief executive Sergio Bucher, who kept his job last month despite being voted off the board by the company's largest shareholder after a dispute over a loan and a disappointing Christmas performance.
"The support of our lenders for our turnaround plan is important to underpin a comprehensive solution that will take account of the interests of all stakeholders, and deliver a sustainable and profitable future for Debenhams."
Bucher has also agreed to develop a strategic sourcing partnership with Hong Kong-headquartered Li & Fung, which he says "will be a key part of our turnaround plan".
The agreement is expected to eventually cover a "material part" of own-brand sourcing and is expected to deliver improved product quality and lead-times, higher margins and better working capital efficiency.
Debenhams expects to shortly make the first orders under the agreement.
Bucher said that Li & Fung's state-of-the-art digital platform would provide "end-to-end visibility across our supply chain" that would "help us anticipate and respond more quickly to trends and our customers' preferences, as well as delivering better quality product".
Shares in Debenhams surged 40% to 4.4p in the first half-hour of trading on Tuesday, having fallen around 95% over the past three years.
Analyst John Stevenson at Peel Hunt said: "While this takes away the immediate pressure and provides a short respite, we believe Debenhams is likely to move forward with a CVA in order to reduce its lease commitments and store numbers, with longer-term financing also likely to be contingent on some form of equity raise."
He added these prospect "may well secure the future of Debenhams, but also leaves little likely equity value for existing shareholders" and so he reiterated his 'sell' stance.
Market analyst Neil Wilson at Markets.com also wondered if this was "a stay of execution or a genuine lifeline?".
He said: "Christmas was tough for Debenhams but January will have been even more stressed. The worry is that Debenhams is now living hand to mouth. Nevertheless, this is an important step towards that refinancing deal and should help management to navigate what is going to be a very tricky few months. Disposals, especially Magasin in Denmark, are certainly on the cards, as well as store closures in the UK.
"It would appear this extra facility will cover the rent payment due the end of March, but we also need to see progress on a proposed CVA to deliver an accelerated store closure programme."