Vesuvius profits take a hit from lower steel production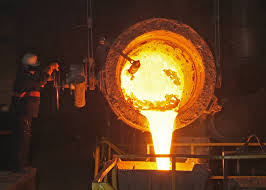 First-half profit and revenue at molten metal flow engineering company Vesuvius fell, the company said on Thursday, amid lower global steel production.
In the half to the end of June, headline pre-tax profit declined 50.8% to £45.9m on revenue of £720m, down 19% on the same period a year ago. Vesuvius said this was driven by "significantly lower" global steel production and industrial output across the world amid the coronavirus pandemic.
It noted that according to the World Steel Association, first-half steel production in the world excluding China fell 14.3% year-on-year. Foundry end-markets across all regions were also significantly impacted by the crisis, with global production of both light vehicles and medium and heavy commercial vehicles down 34.5% and 37.7%, respectively.
Trading profit declined 48% to £51.1m and Vesuvius did not declare an interim dividend.
Chief executive officer Patrick Andre said: "Looking forward, the first signs of improvement are now apparent in both Steel and Foundry, but we expect the pace of a recovery to be slow over the coming months.
"Consequently, the board has not declared an interim dividend at this time and will review the position as the year progresses. Likewise, until we have greater certainty on the shape of the recovery, we cannot provide meaningful guidance as to our full year results. However, thanks to the optimisation of our manufacturing footprint over the past three years, Vesuvius is now very well positioned to benefit from the recovery of end markets when it occurs."