Schroders report record assets under management as profits rise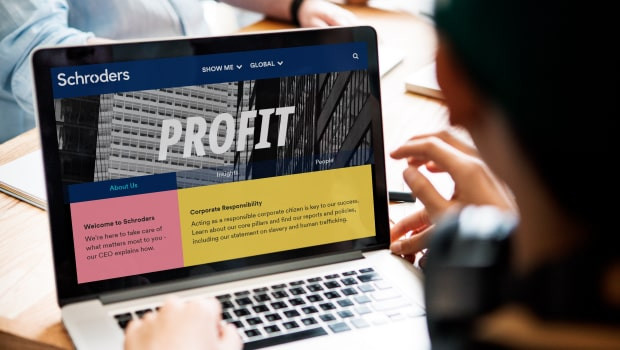 Schroders reached a new high for assets under management in its full-year results on Thursday, as it reported an 18% improvement in net income to £2.57bn, while its profit before tax and exceptional items was 19% higher at £836.2m.
The FTSE 100 asset manager said its operating expenses were 17% higher year-on-year for 2021 at £1.73bn.
It recorded basic earnings per share of 220.8p, up 18% year-on-year, and recommended a 7% hike in the total dividend for the year to 122p per share.
Schroders said its three-year investment performance - a key performance indicator for the group - was strong, as 79% of assets outperformed their relevant comparator.
The company generated net new business of £35.3bn, representing an annual organic growth rate of 5%.
Assets under management increased 10%, up to a new high of £731.6bn, compared to £663bn at the end of 2020.
Schroders said its "strong" financial performance reflected the investments it had made in recent years.
The board said it had developed capabilities in the strategic growth areas of private assets and alternatives and wealth management, expanded its geographic reach, and "evolved" its product range.
"These results benefitted from the strategic decisions we took several years ago, improving both the resilience of our business and its long-term growth potential," said group chief executive Peter Harrison.
"Delivering excellent investment performance is always our primary focus - it was pleasing that 79% of assets outperformed on a three-year basis.
"Importantly, the areas where we have invested for growth have delivered strongly."
Harrison said performance across the firm's partnerships, wealth, private assets and its sustainability franchise "accelerated and enabled" it to better serve a wider group of clients.
"We continue to invest for the future. Most recently we have further expanded our capabilities.
"As a renewable energy manager, Greencoat Capital reinforces our leadership position in sustainability and will help enable our clients' net zero responsibilities.
"River and Mercantile's Solutions business enables us to expand our fiduciary management capabilities," Peter Harrison added.
"These businesses will enhance our resilience and contribute to future growth."
At 1036 GMT, shares in Schroders were down 3.24% at 2,984p.