Ocado surges on Kroger-Albertsons deal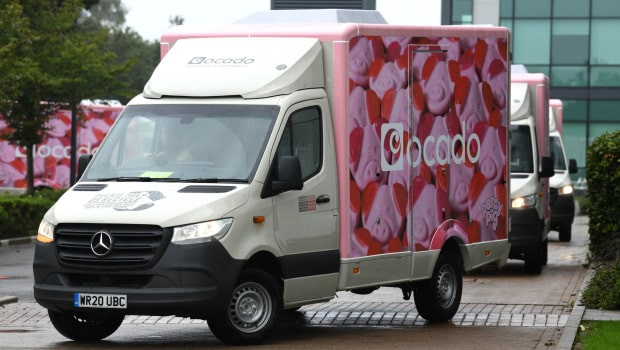 Online supermarket Ocado surged on Friday after US grocery chain Kroger - with which it has a partnership - agreed to buy rival Albertsons in a $24.6bn deal.
Albertsons said on Friday that together, the companies currently employ more than 710,000 associates and operate a total of 4,996 stores, 66 distribution centres, 52 manufacturing plants, 3,972 pharmacies and 2,015 fuel centres.
"The combination creates a premier seamless ecosystem across 48 states and the District of Columbia, providing customers with a best-in-class shopping experience across both stores and digital channels," it said.
Ocado shares shot higher on the news and by 1450 BST were trading up 7.6% at 468.70p, having reached as high as 488.45p earlier in the day.
CMC Markets analyst Michael Hewson said: "Ocado has a distribution deal with Kroger's which generates a significant amount of income so the addition of Albertsons real estate could well add a lot of value to this proposition."
Commenting on the impact of a potential deal on Ocado before the news was confirmed on Thursday, broker Numis said: "For Ocado the opportunity most obviously lies in total addressable market expansion - the deal would expand Kroger's Food Retail sales by circa $70bn (or circa 54%) with significant presence on the West Coast - which Kroger will want to proceed with an online option."
Numis noted that digital penetration at Albertsons is currently mid-single digits with much of that being Drive (collect) or through express delivery (Instacart, Doordash).
"The business has partnered with MFC (micro fulfilment centres) provider Takeoff Technologies since 2019, but has less than 10 of their smaller sites, suggesting they - as with many peers - are not convinced by this solution.
"We also note that this news may explain Kroger's more hesitant commitment to Ocado sites, given this distraction and the implications on a potential customer fulfilment centre network.
"We note some investor concerns on Kroger's focus post-merger, capital capacity and strategic focus - but believe Kroger's multi-channel commitment is intact and thus see this news as supportive to Ocado."
Ocado first announced in 2018 that it had signed a partnership agreement with Kroger under which its technology would be used in the US exclusively by Kroger for grocery and other food distribution related activities.