Lloyds Bank resumes dividend, swings to H1 profit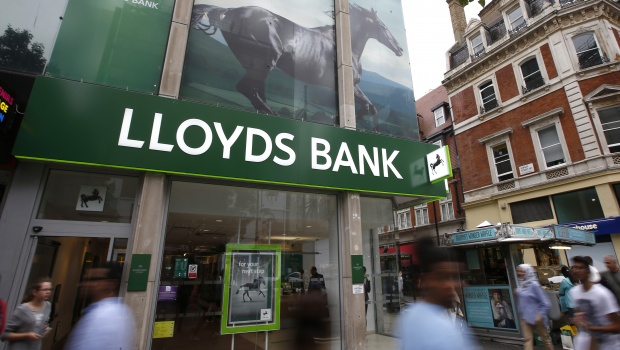 Lloyds Bank swung to an interim profit and reinstated its dividend on Thursday after a large impairment credit, driven by an improved UK economic outlook and soaring housing market.
Britain's biggest mortgage lender reported pre-tax profit of £3.9bn as it released £837m set aside for bad debts amid the Covid pandemic. Lloyds posted a £602m loss last year at the height of the crisis where it set aside billions to cover potential bad debts.
Net income rose 2% to £7.6bn while the net interest margin, the difference between savings and lending rates, fell 9 basis points to 2.5%.
A 0.67p a share dividend was declared after a temporary ban on payouts imposed by the Bank of England at the start of the pandemic. Restrictions were partially lifted in January, and fully removed earlier this month.
Lloyds released £837m from its loss provisions due to the improving outlook in the UK, leading to a net half-year gain of £656m.
"During the first six months of 2021, the group has delivered a solid financial performance with continued business momentum, bolstered by an improved macroeconomic outlook for the UK," said interim chief executive William Chalmers".
"While we are seeing clear progress in the vaccine roll out and emergence from lockdown restrictions, the coronavirus pandemic continues to have a significant impact on the people, businesses and communities of the UK."
Second-quarter profits were £2bn and net income was £3.9bn. Forecasts had pegged profits at £1.2bn and revenues at £3.7bn. Lloyds has benefitted from a booming property market in the UK. Last month was the busiest ever recorded for home sales in Britain as the end of a temporary stamp duty holiday drove a surge in activity.
The bank said June was its biggest month for mortgage completions since 2008. The bank's mortgage book now stands at £12.6bn and it has lent £9bn to first-time buyers so far this year.
In a separate statement, Lloyds, which owns the Scottish Widows pensions brand, said it was buying Embark Group, an investment and retirement platform business, for £390m. The digital retirement group manages £35bn in assets on behalf of 410,000 customers.