Interserve acquisition drives growth at Mitie as it lifts expectations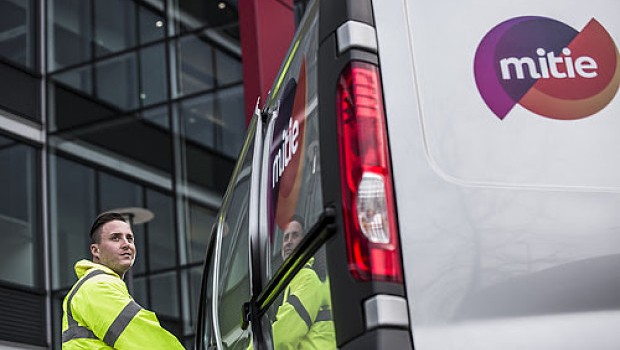 Energy services and outsourcing company Mitie reported "good" trading resilience through Covid-19 in its full-year results on Thursday, with revenue, including its share of joint ventures and associates, rising 19.1% to £2.59bn.
The FTSE 250 firm said that excluding the contribution from Interserve, however, revenue was 1.6% lower.
Group revenue improved to £2.56bn for the year ended 31 March, from £2.17bn a year earlier, while operating profit before other items fell to £63.4m from £86.1m, which its board said was impacted by revenue mix and reduced project work due to the coronavirus crisis.
It said it experienced a "stronger" second half, with revenue growth of 6.5% compared to the previous year.
The acquisition of Interserve Facilities Management was said to be performing better than expected, accelerating the company's value creation.
Cost and revenue synergies of £6.2m were achieved in the 2021 financial year, with the firm's cost synergies target now raised to £42m from £35m, to be achieved by the 2023 financial year at the same cost.
Mitie said it strengthened its balance sheet with its £190m rights issue, the refinancing of its £250m revolving credit facility, and the achievement of a 'BBB' investment grade.
Average daily net debt was "significantly" reduced to £47.1m, from £327.6m, on a post-IFRS 16 basis.
Mitie said its outlook for the current, 2022 financial year was now expected to be "materially ahead" of its prior expectations.
"The 2021 financial year was a defining year for Mitie and completes our four year transformation," said chief executive officer Phil Bentley.
"The group showed great resilience during the Covid-19 pandemic; we strengthened our balance sheet; and the Interserve acquisition is performing well.
"Mitie is now the market leading provider of intelligent technology-led facilities management, with a clear pathway to deliver growth and sustainable free cash flow."
Bentley said that, although the pandemic was a challenge, the company had been "far more resilient" than originally expected, with revenue, excluding the contribution from Interserve, only 1.6% lower than the prior year.
He added that the second half of the year was "significantly better" than the first half, with 6.5% year-on-year growth, as variable projects and discretionary spend works picked up and cleaning and security demand increased.
"Interserve is performing strongly as part of Mitie and we have successfully renewed or extended all major Interserve contracts that were due for renewal.
"As businesses slowly start to reopen and our customers' employees return to offices, we are starting to see some green shoots of recovery in the variable project and discretionary spend works and we anticipate this continuing as re-occupation plans solidify.
"With some high-quality new contract wins, short-term support to the public sector and additional synergies from the integration of Interserve, we now anticipate the 2022 financial year will be materially ahead of our prior expectations."
At 0846 BST, shares in Mitie Group were up 3.81% at 74.44p.