FirstGroup to operate West Coast and HS2 franchises with Trenitalia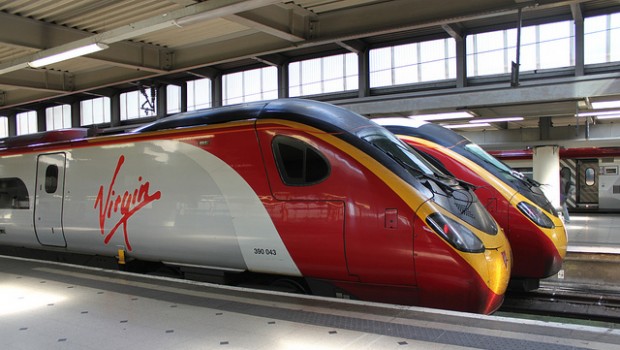 FirstGroup's 70-30 joint venture with Italian state railway operator Trenitalia was told by the Department for Transport that it intended to award the new West Coast Partnership rail franchise to the companies.
The FTSE 250 passenger transport operator said the new partnership would operate from 8 December, and would comprise two distinct phases.
In the first phase to March 2026, First Trenitalia would operate existing InterCity West Coast services, while providing a range of design, development and mobilisation services as 'shadow operator' to the High Speed 2 programme.
First Trenitalia would then operate HS2 and the reshaped InterCity West Coast rail services together as an integrated operation in the second phase, from March 2026 until March 2031, under a management contract.
The firm said it was committed to delivering a range of passenger enhancements for InterCity West Coast services during the first phase of the partnership, adding that it had engaged "extensively" with customers and community groups, and had set out its priorities based on their feedback in a number of key areas.
FirstGroup said the fleet of 56 Pendolino trains would be completely refurbished, incorporating 25,000 new seats and additional luggage space for passengers.
Better and more reliable free Wi-Fi and at-seat power would also be provided for all customers across the fleet, with wireless charging and onboard entertainment.
Catering would be upgraded with at-seat service for all, the company pledged.
First Trenitalia would also introduce an "easily understandable" range of fares and fewer ticket types, along with "easy and rapid" refunds when things went wrong, and simpler fares with mobile tickets and smartcards for all fare types.
By 2022, it said it would offer more than 260 extra services each week, increasing seat miles by more than 10% compared with 2017-2018.
The franchise would provide new direct services to destinations including Liverpool South Parkway, Walsall and Gobowen, and offer more stops at stations including Rugby, Llandudno Junction and Motherwell.
FirstGroup said it would invest in its stations with refreshed waiting rooms, better customer facilities, more car park spaces, and greater accessibility.
Alongside that, it promised to work with partners and stakeholders along the route to deliver major upgrades, such as at Coventry and Birmingham International stations.
It would work to cut the environmental impact of its buildings, improving energy efficiency and installing solar panels, alongside a commitment to achieving an 80% reduction in non-recyclable waste from products sold or supplied on-board trains.
On the fleet front, First Trenitalia said it would introduce environmentally-friendly, modern trains, entirely replacing the diesel-only Voyager fleet and reducing carbon dioxide emissions by 61%.
It would introduce 13 lower emission bi-mode trains for services between North Wales and London, and 10 new electric trains would enable the partnership to run two trains per hour between Liverpool and London on weekdays and Saturdays.
Finally, in human resources, the joint venture said it would invest in apprenticeships and run more than 50,000 training days including accessibility awareness training for frontline employees.
It would also set up a community investment fund, independently chaired economic development and integrated transport Forums, as well as regional customer panels.
The partnership said it would "pave the way" for a new era of high speed rail in the UK through HS2, adding that Trenitalia was bringing "direct experience" of planning, launching and operating high speed rail services.
FirstGroup said its rail division had a "deep commercial understanding" of the UK rail market, as well as expertise in launching new fleets and upgraded timetables and managing services during major infrastructure work.
"We are pleased to have won the West Coast Partnership contract to operate existing InterCity services on the West Coast Mainline and help deliver high speed rail," said FirstGroup chief executive Matthew Gregory.
"The West Coast Partnership includes operation of one of the most consistently successful intercity mainline franchises over the last twenty years.
"We are committed to delivering a range of improvements for InterCity West Coast passengers during the first phase of the partnership and our aim is to provide exceptional service as standard for our customers."
Gregory said that in 2016, FirstGroup and Trenitalia had committed to bidding for the West Coast Partnership as it was seen as a "unique opportunity" to help shape and then run HS2.
"The differences between this contract and more traditional rail franchises were reflected in the terms set out by the Department for Transport, which has resulted in a more appropriate balance of risks and rewards for us as operators.
"The West Coast Partnership's first phase allows us to earn returns on the significant investments in services and facilities for passengers but protected by a much improved revenue risk sharing mechanism.
"This will transition to a management contract in the second phase, ensuring we can really focus on using the respective skills and experience within our joint venture to deliver the desired benefits of the HS2 project for passengers and the country."
FirstGroup was "pleased" to have won the West Coast Partnership with Trenitalia, which Gregory described as a "strong partner" that was committed to playing an increasing role in UK rail.
"The partnership strengthens and adds a fourth franchise to our UK rail portfolio.
"Following this award we will not therefore be seeking new franchising opportunities for the foreseeable future over and above our current negotiations with the DfT to extend GWR.
"Our focus remains on delivering sustainable shareholder value and we will actively manage our rail portfolio and its risk and reward profile accordingly."