Crest Nicholson returns to post-tax profit in strong housing market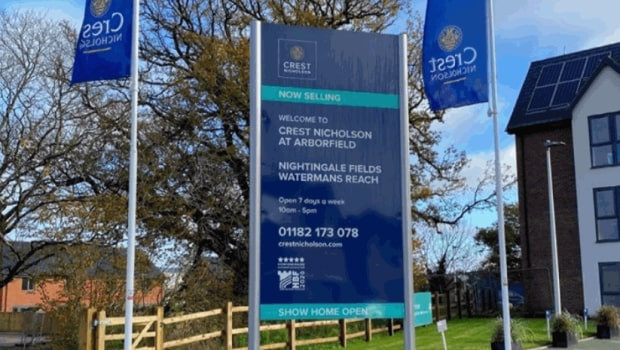 Crest Nicholson reported revenue of £786.6m in its preliminary results on Wednesday, up from £677.9m year-on-year, which it put down to strategic progress and the underlying strength of the housing market.
The FTSE 250 housebuilder reported strong sales momentum in the 12 months ended 31 October, with sales per outlet week rising to 0.80 from 0.59 in the 2020 financial year, although its average number of outlets slipped to 59 from 63.
Forward sales as at 14 January stood at 2,702 units, with its gross development value totalling £719m, both up from 2,435 units and £564.5m in January last year.
Crest Nicholson said 63% of revenue for the 2022 financial year was already covered.
The company completed 2,407 houses in the year, up from 2,247 in the prior year, consisting of 1,924 open market completions including bulk deals, and 483 affordable completions.
Adjusted profit before tax grew to £107.2m from £45.9m year-on-year, including a £16.0m contribution from the sale of Longcross Film Studio.
Crest Nicholson reported an adjusted operating margin of 14.6%, compared to 8.4% in 2020, and recorded an exceptional inventory impairment provision credit of £8.0m, swinging from an exceptional charge of £43.2m a year earlier.
It reported a net exceptional charge for combustible cladding materials of £28.8m, up from £0.6m in 2020, with £42.6m of remaining provision, itself growing from £14.8m.
The company swung to a profit after tax for the year of £70.9m, from a loss of £10.7m for the year through October 2020.
Crest Nicholson said it increased its participation in the land market in the year, with 4,332 plots approved for purchase at a forecast gross margin of 26.7% after sales and marketing costs.
The board described a "transformed" balance sheet, with net cash at year-end totalling £252.8m, up from £142.2m at the end of 2020, and average net cash of £78.4m during the year, compared to average net debt £99.6m in the prior financial period.
Its return on capital employed increased to 17.2% from 7.6%, as the company reinstated its medium-term financial guidance to accompany its growth strategy.
The directors proposed a final dividend of 9.5p per share, making for a total dividend of 13.6p per share for the year, in line with its dividend policy and reflecting confidence in its outlook.
"It was a clear objective of the new leadership team to restore Crest Nicholson to being one of the UK's leading housebuilders," said chief executive officer Peter Truscott.
"That challenge was undoubtedly heightened by the arrival of the pandemic.
"However, we can say with confidence that we have delivered the turnaround that we wanted."
Truscott said the company's operating platform was now "efficient and scalable" and its balance sheet "transformed", equipping the firm to grow its footprint in the UK, while it had assembled an "experienced" leadership team to drive itself forward.
"A strong improvement in financial performance has followed which also reflects the ongoing underlying strength of the market.
"We were delighted to increase profit expectations twice in the year and we have started 2022 with a strong forward order book and everyone in Crest Nicholson is excited about our plans for expansion."
Peter Truscott said it was right to remain aware of the broader macroeconomic uncertainty, but described the fundamentals of the sector as "strong".
"I am confident that our strategy is the right one to navigate this environment and ensure we deliver maximum value for all of our stakeholders."
At 0915 GMT, shares in Crest Nicholson Holdings were up 2.25% at 347.24p.