Big Yellow sees revenue and earnings grow as it expands estate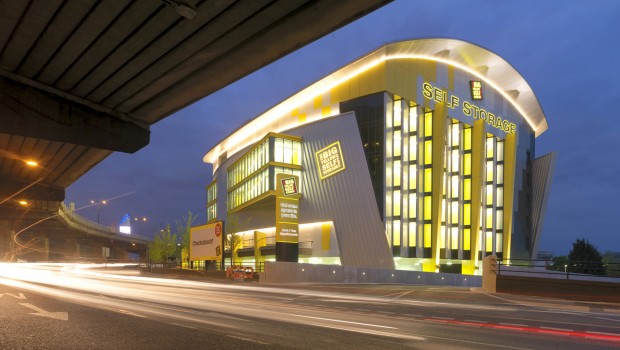 Big Yellow Group reported a 4.2% increase in like-for-like revenue in its first half results on Tuesday, to £63.8m, which it said was driven by growth in its average occupancy and rate.
The FTSE 250 storage provider said overall revenue was ahead 3.4% at £64.3m for the six months ended 30 September.
Its average achieved net rent per square foot increased by 1.6% period-on-period to £27.40, while its closing net rent was up 1.9% from September 2018 at £27.73, and was currently up 3.1% from 1 April.
Cash flow from operating activities, after net finance costs, increased 4.0% to £36m.
Its adjusted profit before tax was 6.0% higher at £35.3m, while its EPRA earnings per share were 0.5% firmer at 21p - something the board said was impacted by the full dilutive effect of the September 2018 placing.
The board declared an interim dividend per share of 17.1p, which was 2.4% higher than the half-year distribution declared 12 months ago.
On the operational front, Big Yellow highlighted the acquisition of new development sites in Slough, Hayes and Harrow during the period, taking its pipeline to 13 development sites of approximately 890,000 square feet.
It received planning consent for new stores in Uxbridge, Queensbury and Hove.
The board saif Big Yellow's capital structure remained "secure", with strong interest cover, post dividend cash flow generation and £49m of available committed facilities.
"The economic and political environment is currently less than helpful, however despite this we have continued to deliver growth in revenue, cash flow and profit," said executive chairman Nicholas Vetch.
"We have a proven business model which we have developed over the last two decades and we will continue to innovate and optimise our marketing strategy and improve our operating performance to drive revenue.
"Crucially, we will also maintain our focus on managing costs such that revenue growth transmits efficiently to the bottom line."
Following the September 2018 placing raising £65.3m, Veitch said the firm had made good progress building the pipeline of new stores and securing planning consents, and the impact of dilution had now washed through.
"As we open new stores from Spring 2020, we anticipate that shareholders will see an increasing contribution in our performance from that expansive strategy."
At 1026 GMT, shares in Big Yellow Group were down 3.02% at 1,156p.