Bellway profit rises amid strong demand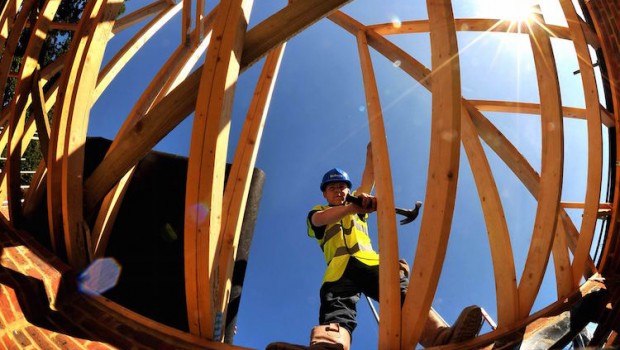 Housebuilder Bellway reported a jump in full-year profit on Tuesday amid strong demand but warned over margins.
In the year to the end of July 2019, pre-tax profit rose 3.4% to £662.6m on revenue of £3.2bn, up 8.6% on the previous year. Housing completions increased 5.7% to a record 10,892 homes and the average selling price was up 2.5% to £291,968.
The operating margin came in at 21% from 22.1% the year before as build cost inflation outstripped house price inflation, and Bellway proposed a total dividend per share of 150.4p, up 5.2%.
The company said the ongoing imbalance between supply and demand for affordably-priced, good-quality housing remains across many parts of the country. In addition, strong demand for new homes continues to be supported by the Help to Buy scheme and low interest rates.
"The land market remains attractive and the planning environment favourable, with the group continuing to identify value enhancing opportunities which meet our requirements in respect of both gross margin and return on capital employed," it said.
"Bellway continues to draw upon these favourable market conditions, retaining its clear strategy to deliver long term and disciplined volume growth. This, together with the continued focus on quality and customer care, enables all stakeholders to benefit from our continued success."
The group said trading has remained "robust" in the first nine weeks of the new financial year, with 183 reservations per week versus 176 between 1 August and 30 September 2018. However, it also warned over margins.
"The one-off benefit to the operating margin from Nine Elms will not be repeated and in addition, in the absence of house price inflation, industrywide build cost pressures will continue to have a moderating effect," it said. "As a result of these combined influences, the reduction to a consistent, underlying operating margin will be more pronounced."
At 0940 BST, the shares were down 6.9% at 3,252p.
Russ Mould, investment director at AJ Bell, said: "Despite some volatility in the wake of the Brexit vote, the past few years may come to be seen as a golden age for the UK housebuilding sector.
"A combination of rising house prices, low interest rates, a competitive mortgage market and government subsidy in the form of the Help to Buy scheme led to bumper returns for the sector. Today's results from Bellway demonstrate that this golden age could be drawing to a close. House price inflation is stalling and, combined with an increase in build costs, this is beginning to put margins under pressure.
"At Bellway this looks set to be exacerbated as sales of freeholds on flats, particularly in London, dry up, as the company is forced to offer more part-exchange deals to maintain volumes and as it shifts focus from London and Home Counties.
"These numbers also benefitted from a one-off boost from its Nine Elms development in West London.
"Bellway deserves credit for continuing on a growth path in the face of the pressured returns and for not compromising on build quality as a short-term fix to maintain margins.
"The company is also diversifying through its London Partnerships business, building homes in joint venture with local authorities, housing associations and investors in the private rental sector."