Antofagasta ups dividend 177% as strike action looms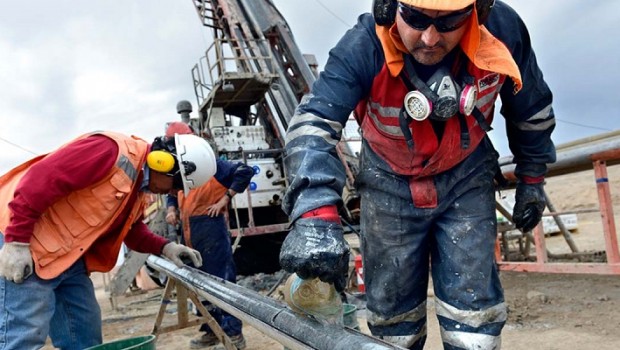 Antofagasta increased its dividend 177% for last year as cash flow surged on the group's highest operating margin in five years, though the world's largest copper producer is facing strike action at its Los Pelambres mine.
For the past calendar year the Chilean group generated revenue of $4.75bn, up 31% on the previous year, from 704,300 tonnes of copper production, which was down 0.7%.
Cash costs for extracting that metal were $1.60 per lb, which was 6 cents per lb higher than the prior year due to the expected decline in grades at Los Pelambres and Centinela, higher input prices and a stronger local currency. Costs including by-product credits were $1.25/lb, up 4.2% but below guidance thanks to higher than expected by-product revenues.
With capital expenditure of $899m, earnings before interest, tax, depreciation and amortisation of $2.59bn was 59.1% higher than the previous year as EBITDA margin increased to 54.5% - it's strongest level since 2012. Profit before tax of $1.8bn was more than double the previous year, with earnings per share from continuing operations and before exceptional items more than doubled to 76.1 cents per share.
The stronger margins and sales fed through to a 71% jump in operating cash flow to $2.5bn, with free cash flow for the year of $1.2bn.
A final dividend for the year of 40.6 cents per share brought the the total dividend for the year to 50.9 cents per share or $502m. This implied a 67% payout in relation to EPS, ahead of the 35% policy.
Looking ahead, the crucial events on FTSE 100 giant's horizon in 2018 are the review and expected approval of the major expansion project at Los Pelambres and progressing expansion plans at Centinela.
Board approval of the Los Pelamabres expansion is expected this year after the environmental impact assessment has been approved, with start-up expected in 2021.
More immediately, production could be under threat as workers in the largest union at Los Pelambres rejected an offer for a new labour contract, paving the way for striking action. Analysts say workers and the company would still have to go through a meditation process with the government to reach a second deal.
If production is not disrupted by industrial action, guidance for 2018 is for a range of 705-740,000 tonnes, at a cash cost of $1.65/lb or $1.35/lb net. A new $100m cost-savings program is being put in place for 2018.
Looking at Chile's political scene, analysts see the incoming Pinera administration as potentially offering some upside risks if the new government pushes ahead with any regulatory or fiscal reforms.
"The copper market is expected to tighten in the second half of the year and to be in balance or in a slight deficit for the full year," directors said. "From 2019 the likelihood of the market being in deficit is expected to increase as mine supply continues to be affected by the long-term trend of grade decline and lack of new investment."
In addition, they noted the "unusually large number of labour negotiations" taking place in Chile and Peru during 2018, not mentioning their own, so that with the backdrop of stronger copper prices, "employee expectations may be raised which could result in some supply disruptions in the region".
On the demand side, the company hopes growth will continue to be driven by Chinese consumption and there could be a sizeable rise in demand from electric vehicles and renewables if analyst forecasts are to be believed.
ANTO shares rose 1.7% in early trading on Tuesday to 902.8p.
Having previously announced sales, realised prices, unit costs and 2018 guidance, there weren't any large variances in the income statement, said analysts at RBC Capital Markets, apart from on dividend and net debt.
The dividend of 40.6 cents was ahead of the City average of 30 cents and net debt of $456m was significantly below its $733.0m forecast.
"On the downside, the Los Pelambres Incremental expansion will now have capex of $1.3bn, up from $1.05bn, on what looks like cost inflation and additional water capacity - this brings the capital intensity to $23,600/t (55ktpa). Timeline still on track for H2 2018 approval and 2021 start-up. We see this as another data point of how expensive it will be to supply the next generation of copper," RBC said, noting that the shares are trading at their lowest relative level to consensus in the past two years after underperforming the FTSE 350 Mining Index by 14% over the past six months.
Broker Shore Capital noted that labour negotiations at Los Pelambres went to mediation last week after union members rejected a pay offer on 9 March, with ANTO expecting the process to last 1-2 weeks from that date.