Sunak says banks should not pay much more tax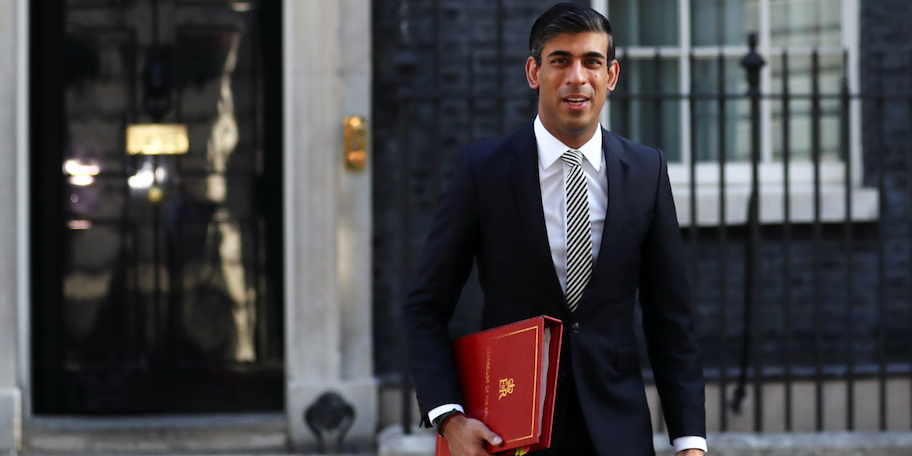 The chancellor indicated on Thursday he would scrap or reduce the bank surcharge to ensure banks do not pay much more when corporation tax rises.
Rishi Sunak announced at his February budget that corporation tax would rise to 25% from 19% by 2023 for companies with at least £250,000 of annual profit. At the time, he said he would review the 8% bank surcharge, introduced after the financial crisis, to make sure UK banks were not made uncompetitive.
In a speech to City bosses at the Mansion House, Sunak said: "I announced at budget that we'd review the bank surcharge. Our ongoing conversations have only reinforced my view that the combined tax rate on UK banking profits should not increase significantly from its current level."
Sunak said financial services contributes £76bn a year in tax - enough to pay for the UK's police and the state school system. He said he would complete the review of the surcharge by the end of 2021 as planned.
UK bank stocks rose, led by Barclays whose shares gained 2.5% to 175.32p at 12:56 BST. NatWest rose 1.2%, Lloyds and HSBC each gained 1.4% and Virgin Money was up 1.8%. Metro Bank rose 2.3%.
Sunak's speech followed an earlier address by Bank of England Governor Andrew Bailey in which reaffirmed the BoE's belief that inflationary pressures would be temporary and that it would not tighten policy in response to short-term trends.
The chancellor also said the UK must strengthen its trading relationship with China while speaking out on human rights and other matters on which the countries disagreed. He admitted that efforts to give the UK direct access to EU markets had failed.
The City should take part in China's fast-growing financial services market with total assets of £40tn, Sunak said.
"We can pursue with confidence an economic relationship with China in a safe, mutually beneficial way without compromising our values or security," he added.
Miles Celic, chief executive of TheCityUK trade group, said, "I am delighted that the chancellor has set out a positive vision to secure the UK's global leadership in its most critical and global industry, its largest net exporter, and most significant tax payer."