Director dealings: Next chairman spends £0.35m on shares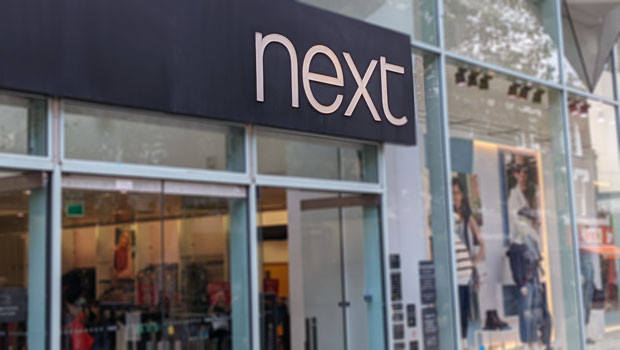 High-street fashion stalwart Next was in the green on Tuesday afternoon, after its chairman bought more than £0.35m worth of shares.
The company said Michael Roney, alongside the "closely associated" Sandra Roney, bought 7,500 of its shares.
It said the purchases were made across a number of trading venues and a large number of transactions on 30 September.
Next said the Roneys paid an average of 4,789.49p for each share purchased, giving the transactions a gross value of £359,211.59.
At 1629 BST, shares in Next were up 4.09% at 5,034p.
Reporting by Josh White at Sharecast.com.
Top Director Buys
Next (NXT)
Director name: Roney,Michael J
Amount purchased: 7,500 @ 4,789.49p
Value: £359,211.59

Cls Holdings (CLI)
Director name: Kirkman ,Andrew
Amount purchased: 110,175 @ 139.60p
Value: £153,804.30

Phoenix Group Holdings (PHNX)
Director name: Shott,Nicholas
Amount purchased: 28,694 @ 520.11p
Value: £149,239.21

Clarkson (CKN)
Director name: Hollingworth,Laurence
Amount purchased: 4,000 @ 2,690.74p
Value: £107,629.60

Phoenix Group Holdings (PHNX)
Director name: Briggs,Andrew
Amount purchased: 20,000 @ 515.77p
Value: £103,154.24

Spirax-sarco Engineering (SPX)
Director name: Anderson,Nicholas John
Amount purchased: 1,000 @ 10,238.57p
Value: £102,385.75

Intermediate Capital Group (ICP)
Director name: Purves,Kathryn
Amount purchased: 10,000 @ 974.00p
Value: £97,400.00

Fevertree Drinks (FEVR)
Director name: Havelock,Kevin
Amount purchased: 10,000 @ 836.00p
Value: £83,600.00

Fevertree Drinks (FEVR)
Director name: Havelock,Kevin
Amount purchased: 8,000 @ 837.00p
Value: £66,960.00

Persimmon (PSN)
Director name: Place,Joanna
Amount purchased: 4,045 @ 1,226.00p
Value: £49,591.70

Fevertree Drinks (FEVR)
Director name: Havelock,Kevin
Amount purchased: 5,000 @ 841.00p
Value: £42,050.00

Fevertree Drinks (FEVR)
Director name: Havelock,Kevin
Amount purchased: 5,000 @ 829.00p
Value: £41,450.00

Brooks Macdonald Group (BRK)
Director name: Shepherd,Andrew William
Amount purchased: 2,103 @ 1,882.50p
Value: £39,588.98

Trident Royalties (TRR)
Director name: Reading,David J.
Amount purchased: 75,000 @ 51.00p
Value: £38,250.00

Fevertree Drinks (FEVR)
Director name: Havelock,Kevin
Amount purchased: 4,000 @ 835.00p
Value: £33,400.00

Fevertree Drinks (FEVR)
Director name: Havelock,Kevin
Amount purchased: 3,000 @ 839.00p
Value: £25,170.00

Fevertree Drinks (FEVR)
Director name: Havelock,Kevin
Amount purchased: 3,000 @ 836.00p
Value: £25,080.00

Fevertree Drinks (FEVR)
Director name: Havelock,Kevin
Amount purchased: 3,000 @ 826.00p
Value: £24,780.00

Avi Global Trust (AGT)
Director name: Galloway,Neil
Amount purchased: 13,500 @ 177.30p
Value: £23,935.36

Sdcl Energy Efficiency Income Trust (SEIT)
Director name: Knowles,Christopher
Amount purchased: 20,000 @ 100.86p
Value: £20,172.80

Sequoia Economic Infrastructure Income Fund Limited (SEQI)
Director name: Stewart ,James
Amount purchased: 23,250 @ 81.30p
Value: £18,901.85

Ariana Resources (AAU)
Director name: Villiers,Michael de
Amount purchased: 500,000 @ 3.20p
Value: £16,000.00

Sdcl Energy Efficiency Income Trust (SEIT)
Director name: Roper,Tony
Amount purchased: 15,000 @ 100.12p
Value: £15,018.60

Ariana Resources (AAU)
Director name: Villiers,Michael de
Amount purchased: 500,000 @ 2.88p
Value: £14,400.00

Trident Royalties (TRR)
Director name: Reading,David J.
Amount purchased: 25,000 @ 51.00p
Value: £12,750.00

Trident Royalties (TRR)
Director name: Reading,David J.
Amount purchased: 25,000 @ 51.00p
Value: £12,750.00

Trident Royalties (TRR)
Director name: Reading,David J.
Amount purchased: 25,000 @ 50.00p
Value: £12,500.00

Trident Royalties (TRR)
Director name: Reading,David J.
Amount purchased: 25,000 @ 48.00p
Value: £12,000.00

Sdcl Energy Efficiency Income Trust (SEIT)
Director name: Knowles,Christopher
Amount purchased: 10,000 @ 102.20p
Value: £10,220.00

Bellevue Healthcare Trust (red) (BBH)
Director name: Grewal ,Randeep Singh
Amount purchased: 5,842 @ 163.50p
Value: £9,551.67

Cyanconnode Holdings (CYAN)
Director name: Peacock,Heather
Amount purchased: 72,340 @ 11.75p
Value: £8,499.95

Synthomer (SYNT)
Director name: Connolly,Brendan
Amount purchased: 6,979 @ 106.75p
Value: £7,450.36

Bellevue Healthcare Trust (red) (BBH)
Director name: Dixon,Josephine
Amount purchased: 3,633 @ 163.50p
Value: £5,939.95

Sdcl Energy Efficiency Income Trust (SEIT)
Director name: Clarkson,Helen
Amount purchased: 5,000 @ 100.70p
Value: £5,034.75

Sdcl Energy Efficiency Income Trust (SEIT)
Director name: Patel,Sarika
Amount purchased: 5,000 @ 99.97p
Value: £4,998.70

Invesco Asia Trust (IAT)
Director name: Madden,Myriam
Amount purchased: 1,500 @ 319.00p
Value: £4,785.00

Bellevue Healthcare Trust (red) (BBH)
Director name: Bolsover,Kate
Amount purchased: 2,881 @ 163.50p
Value: £4,710.43

Bellevue Healthcare Trust (red) (BBH)
Director name: Southgate,Paul
Amount purchased: 2,592 @ 163.50p
Value: £4,237.92

Bellevue Healthcare Trust (red) (BBH)
Director name: Young,Tony
Amount purchased: 2,592 @ 163.50p
Value: £4,237.92

Synectics (SNX)
Director name: Webb ,Paul
Amount purchased: 819 @ 110.00p
Value: £900.90


Top Director Sells
Brooks Macdonald Group (BRK)
Director name: Thorpe,Ben
Amount sold: 3,379 @ 1,882.50p
Value: £63,609.68

Baronsmead Second Venture Trust (BMD)
Director name: Groat,Malcolm
Amount sold: 37,426 @ 64.00p
Value: £23,952.64