Director dealings: Land Securities CEO ups stake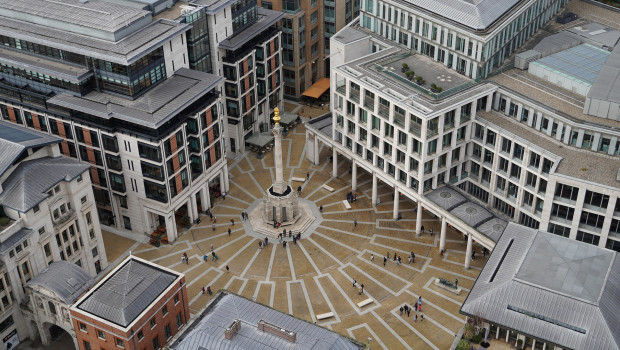 Land Securities revealed on Friday that chief executive officer Mark Allan had acquired 45,695 ordinary shares in the FTSE 100-listed real estate investment trust.
Allan, who took over as CEO in April, purchased the shares on Thursday at an average price of 682.29p each, for a total value of £311,772.41.
Earlier in November, Land Securities reported a widening of its first-half losses as the value of its property assets fell by 7.7% due to the impact of the coronavirus pandemic, but the shopping centre owner reinstated its dividend.
As of 1635 GMT, Land Securities shares were down 0.59% at 679.50p.
Top Director Buys
Land Securities Group (LAND)
Director name: Allan,Mark
Amount purchased: 45,695 @ 682.29p
Value: £311,772.41

Londonmetric Property (LMP)
Director name: Livingston,Andrew
Amount purchased: 68,898 @ 235.80p
Value: £162,461.49

Edinburgh Inv Trust (EDIN)
Director name: Suarez ,Glen
Amount purchased: 24,717 @ 522.00p
Value: £129,022.73

Spirent Communications (SPT)
Director name: Bell,Paula
Amount purchased: 50,000 @ 257.48p
Value: £128,740.05

Halfords Group (HFD)
Director name: Singer,Tom
Amount purchased: 20,000 @ 268.51p
Value: £53,701.08

Personal Assets Trust (PNL)
Director name: Ferguson,Iain
Amount purchased: 51 @ 45,456.67p
Value: £23,182.90

H&t Group (HAT)
Director name: Withers,Richard
Amount purchased: 10,000 @ 227.40p
Value: £22,740.00

Qinetiq Group (QQ.)
Director name: Searle,Susan
Amount purchased: 7,100 @ 307.51p
Value: £21,833.53

Personal Assets Trust (PNL)
Director name: Ferguson,Iain
Amount purchased: 45 @ 45,506.67p
Value: £20,478.00

Henderson High Income Trust (HHI)
Director name: Rigg,Jeremy
Amount purchased: 10,000 @ 146.05p
Value: £14,605.00

Allergy Therapeutics (AGY)
Director name: Jensen,Peter
Amount purchased: 100,000 @ 14.00p
Value: £14,000.00

Easyjet (EZJ)
Director name: Leeder ,Nick
Amount purchased: 1,334 @ 753.40p
Value: £10,050.36

Wood Group (john) (WG.)
Director name: Watson,Robin
Amount purchased: 2,389 @ 274.50p
Value: £6,557.80

Pittards (PTD)
Director name: Briere,Richard
Amount purchased: 10,608 @ 44.00p
Value: £4,667.52

Wood Group (john) (WG.)
Director name: Kemp,David
Amount purchased: 1,513 @ 274.50p
Value: £4,153.18

Qinetiq Group (QQ.)
Director name: Searle,Susan
Amount purchased: 1,200 @ 307.91p
Value: £3,694.97

Cadence Minerals (KDNC)
Director name: Suckling,Andrew
Amount purchased: 15,044 @ 15.80p
Value: £2,376.95

Stagecoach Group (SGC)
Director name: O'Toole,Ray
Amount purchased: 3,000 @ 58.63p
Value: £1,758.89

Johnson Matthey (JMAT)
Director name: MacLeod,Robert
Amount purchased: 15 @ 2,541.14p
Value: £381.17

Henderson Far East Income Ltd. (HFEL)
Director name: Clissold,Timothy
Amount purchased: 10,000 @ 3.14p
Value: £314.16

Pennon Group (PNN)
Director name: Boote,Paul
Amount purchased: 14 @ 1,036.00p
Value: £145.04

Pennon Group (PNN)
Director name: Davy ,Susan
Amount purchased: 12 @ 1,036.00p
Value: £124.32

Easyjet (EZJ)
Director name: Leeder ,Nick
Amount purchased: 12 @ 751.00p
Value: £90.12


Top Director Sells
Londonmetric Property (LMP)
Director name: Livingston,Andrew
Amount sold: 68,898 @ 232.80p
Value: £160,394.55

Jardine Matheson Holdings Ltd (singapore Reg) (JAR)
Director name: Weatherall,E P K
Amount sold: 3,100 @ $51.35
Value: $159,193.06

Edinburgh Inv Trust (EDIN)
Director name: Suarez ,Glen
Amount sold: 24,717 @ 518.40p
Value: £128,133.39

Dunedin Enterprise Investment Trust (DNE)
Director name: Finlayson,Brian
Amount sold: 25,555 @ 384.84p
Value: £98,345.86

Dunedin Enterprise Investment Trust (DNE)
Director name: Budge,Duncan W A
Amount sold: 5,599 @ 384.84p
Value: £21,547.19

Dunedin Enterprise Investment Trust (DNE)
Director name: Budge,Duncan W A
Amount sold: 5,599 @ 384.84p
Value: £21,547.19

Dunedin Enterprise Investment Trust (DNE)
Director name: Lane,Angela
Amount sold: 3,788 @ 384.84p
Value: £14,577.74

Dunedin Enterprise Investment Trust (DNE)
Director name: Finlayson,Brian
Amount sold: 2,017 @ 384.84p
Value: £7,762.22

Dunedin Enterprise Investment Trust (DNE)
Director name: Budge,Duncan W A
Amount sold: 1,251 @ 384.84p
Value: £4,814.35

Dunedin Enterprise Investment Trust (DNE)
Director name: Lane,Angela
Amount sold: 519 @ 384.84p
Value: £1,997.32