Tuesday preview: Fed's Powell, Close Brothers Group in focus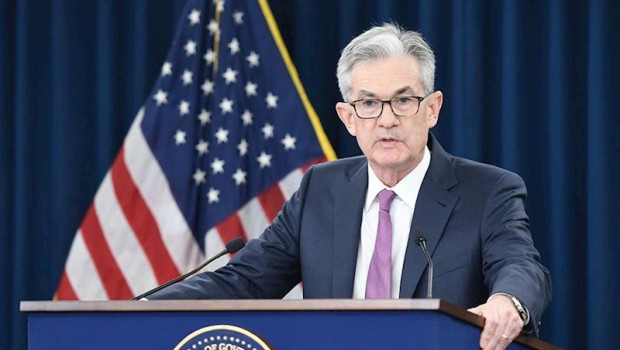 All eyes will be on US Federal Reserve chairman, Jerome Powell, as he testifies before a panel from the US House of Representatives' Financial Services Committee.
Investors are likely to be scrutinising his remarks for any further dovish hints regarding the near-term outlook for monetary policy.
Across the Channel meanwhile the focus will be on European Central Bank chief economist Philip Lane.
At 1500 BST he will be participating in the ECB/CompNet event entitled "Productivity, trade and financial flows in the face of a pandemic: a European perspective."
On home shores, at 0700 BST the Office for National Statistics will release public sector net borrowing figures covering the month of August.
They will be followed by the Confederation of British Industry's Industrial Trends survey at 1100 BST.
For merchant bank Close Brothers Group's full-year numbers, as per its pre-close trading update, UBS's Jason Napier is anticipating a significant reserve build alongside loan losses up 2.3% year-on-year as a proportion of its average losses.
Very strong activity at its Winterflood unit is also expected to have driven a 10% increase in assets under management at its asset management unit.
In turn, its Common Equity Tier 1 capital buffer was pegged at 14.2% or 600 basis points above its minimum requirement and a 120bp higher than where it stood one year before.
"We do not expect a dividend to be declared for this year, despite balance sheet strength, a roughly breakeven result in 2H despite reserve build, and CB not being included in the BoE's big bank request that lenders not pay dividends during calendar 2020."
Tuesday 22 September
INTERIMS
ADES International Holding (DI) , Alliance Pharma, Barr (A.G.), Cambridge Cognition Holdings, Ergomed , Frenkel Topping Group, Inspects Group , Judges Scientific, Kingfisher, LongBoat Energy (Reg S), NAHL Group, Oriole Resources , Parity Group, Personal Group Holdings, Tremor International LTD (DI)
INTERIM DIVIDEND PAYMENT DATE
London Stock Exchange Group
INTERNATIONAL ECONOMIC ANNOUNCEMENTS
Existing Home Sales (US) (15:00)
FINALS
1pm, Bluefield Solar Income Fund Limited, Litigation Capital Management Limited (DI)
AGMS
Ashmore Global Opportunities Limited USD NPV, Blue Planet Investment Trust, Cathay International Holdings Ltd., Draper Esprit VCT, Empyrean Energy, Gail (India) Ltd GDR (Reg S), Grafenia , Ilika, Liontrust Asset Management, Manolete Partners, Miton UK Microcap Trust, Morses Club , Odyssean Investment Trust, Pantheon International , Prime People, Trifast, Utilico Emerging Markets Ltd (DI), Yourgene Health
UK ECONOMIC ANNOUNCEMENTS
CBI Industrial Trends Surveys (11:00)
Public Sector Net Borrowing (09:30)
FINAL DIVIDEND PAYMENT DATE
BHP Group