Goldman upgrades Standard Chartered to 'buy'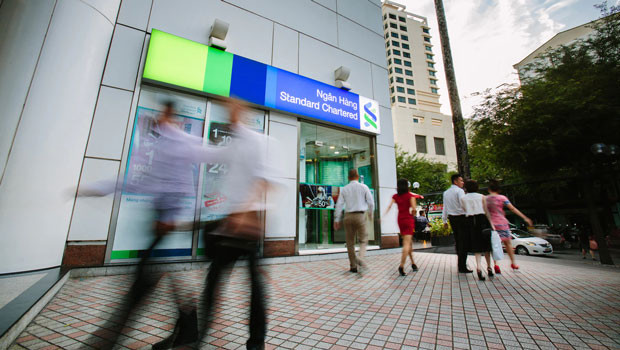 Goldman Sachs has upgraded its rating on multinational banking group Standard Chartered from 'neutral' to 'buy', saying that upside risk isn't reflected in the current share price.
The stock currently trades close to record-low valuations, despite a near-decade-high return on tangible equity of 11% next year, and offering a 10% total capital return yield, Goldman said.
Meanwhile, StanChart is set to show a "rare out-performance relative to its bank peers over the next two years", according to Goldman.
Analysts expect the bank to deliver a double-digit compound annual growth rate (CAGR) in earnings per share (EPS) and a 2.7 percentage-point improvement in return on equity (ROE), compared with low single-digit EPS CAGR and declining ROE at peer banks.
Goldman said that improvements in EPS and ROE will be driven by four factors: an unwind of loss-making hedges put-on by the group during late 2021, starting in February 24; a better outlook for non-funds income; a new chief financial officer to be appointed next year who could focus on the outsized corporate office function relative to its peers; and the possibility for continued buyback with capital now at the top-end of the target range.
Third-quarter results from StanChart last month came in about 10% below consensus forecasts on a pre-tax profit level. "We expect 4Q23 results delivery to be cleaner, in-line with expectations, and to be further supported by a c.US$750mn buy-back announcement. The stock tends to react to earnings and can rise into a potential buy-back," Goldman said.
Goldman cut its target price for the shares from 879p to 868p.
The stock was up 0.8% at 665.2p by 1008 GMT.