Goldman upgrades Rio, downgrades BHP as it reviews mining sector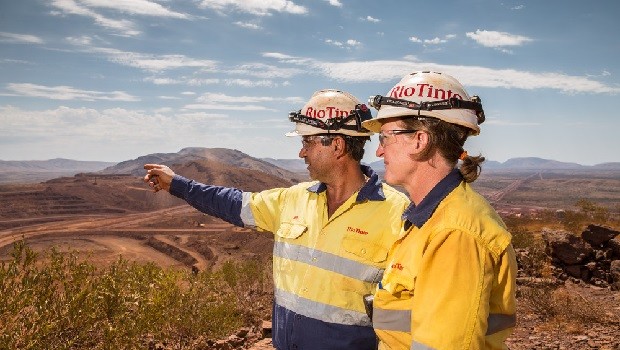 Goldman Sachs upped its stance on Rio Tinto but downgraded its recommendation on BHP on Tuesday as it took a look at the metals and mining sector.
The bank upgraded Rio to 'buy' from 'neutral' and lifted the price target to 5,000p from 4,100p as it said the company was set to benefit from higher iron ore prices.
GS noted that since the breach of a tailings dam at a Vale-owned iron ore mine last month, iron ore prices have risen by around 16%.
"Given ongoing uncertainty that this has created over the outlook for iron ore supplies, we expect the iron or price to remain elevated, at least in the short term. The impact of this on earnings is likely to be greatest for Rio Tinto, which derives more than 70% of its EBITDA (2019E) from iron ore."
The bank downgraded BHP Group to 'neutral' from 'buy' and cut its price target to 1,800p from 2,000p following recent outperformance. It pointed out that BHP outperformed Rio by 14% between March 2018 and January 2018, thanks to strong price momentum for BHP-specific commodities such as oil, the sale of its onshore oil assets and the strengthening of its portfolio.
"Given sector-wide outperformance, and with only circa 5% upside to our price target, we downgrade," it said.
GS also said that following the sale of BHP's onshore oil assets and the return of much of the proceeds to shareholders, there is little in the way of potential catalysts for the company, aside from a sustained increase in commodity prices. In addition, the bank reckons that BHP's first-half results could disappoint the market as far as shareholder returns and net debt are concerned.
Anglo American remains Goldman's key idea. "It is one of only a few high-quality companies for which we expect positive earnings momentum this year, benefiting from the return of Minas Rio to operation," it said.
More broadly, the bank said the set-up for commodities and mining equities remains positive.
For commodities, while expectations for global demand growth rates have declined, in absolute terms the outlook remains strong, buoyed by a lack of meaningful supply growth stemming from an absence of tangible growth capex.
For mining equities, GS's view is unchanged. "In general, companies have repaired their balance sheets and have modest forward capex commitments, meaning strong free cash flow generation (at current prices) should translate into higher returns, in the form of dividends/buy-backs."
At 1040 GMT, Rio shares were up 0.5% to 4,308.50p and BHP was up 0.4% at 1,731.20p.