Berenberg slashes target for Metro Bank, but upgrades to 'hold'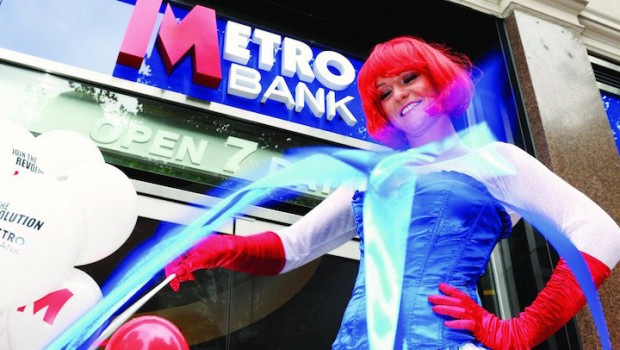 Analysts at Berenberg upgraded shares of British challenger bank Metro Bank to 'hold' from their previous 'sell' rating on Monday, explaining that while near-term pressure might continue, the stock was now "fairly valued".
Berenberg, which slashed its target for the shares by more than half, from 2,500p to 1,200p, said Metro's mandate to prioritise growth over near-term returns had been eroded, with the bank now trading at roughly 1.0x tangible book value versus the more than 3.0x it traded at in 2018.
That followed a surprise jump in its risk-weighted assets over the final three months of 2018.
The German broker stated that near-term growth at Metro would likely be reliant on external capital, so expectations for Metro's returns needed to be re-based in order to "re-establish confidence", as was now more the case following the share price drop.
Berenberg also said Metro's unexpected level of risk-weighted assets created a "capital conundrum".
So while there have been calls for the bank to pause growth and avoid costly new capital, Berenberg said that "not growing is not an option".
"Without growth, Metro would arguably continue to generate just £50m of earnings pa which, even on a 10-15x multiple, implies c40-60% downside to the current share price," said analyst Peter Richardson.
Richardson also noted that Metro's value relied on its ability to meet long-dated targets, something for which investor confidence was "paramount".
All in all, Berenberg said: "The reduction to our price target reflects greater dilution from addition near-term capital and a lower issuance price for future capital.
"Our FY 2018 EPS estimates fall 26%, reflecting disappointing Q4 2018 growth. Our estimates from FY 2019 are also affected by £150m of capital that we believe may be required during FY 2019."