Barclays ups price target but cuts rating for Derwent London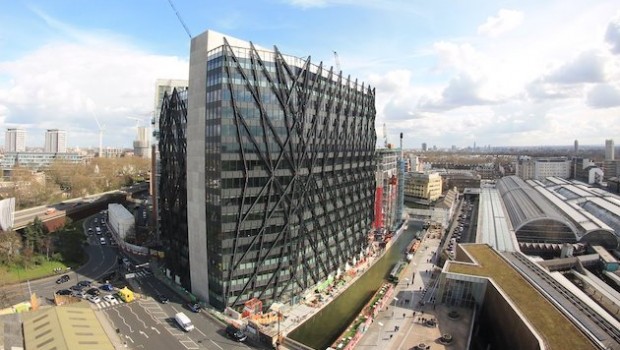 Barclays has cut its recommendation on London Derwent, despite upping its price target, pointing to a number of factors undermining the capital's otherwise strong office market.
The bank said that the London office market was performing well: "Tenant demand and investment volumes have performed strongly, defying expectations post the June 2016 European Union referendum."
But it added: "However, despite low vacancy levels, supply remaining controlled and the aforementioned strong take-up, rents have remained flat. Furthermore, yields remain at record low levels.
"While we see no clear reasons for the market to change, and therefore we again become sequentially less bearish on the outlook for London offices, we continue to see balance of risks asymmetrically skewed to the downside."
Derwent speculatively develops office schemes in the city, and has two major schemes in the pipeline: the 285,000 sq ft Soho Place and the 125,000 sq ft Featherstone Building, both of which are due to complete in 2022.
Said Barclays: "The desire to continue to deliver new product is borne from the distinct split the group observes between occupiers willing to sign up to new, efficient and high-quality space while avoiding existing, older space."
Barclays believes the two new developments will add around £32m worth of rent, equivalent to 18% of the current rent roll, "which will continue to drive earnings growth, although disposals will offset part of his impact".
But it added: "Our earnings per share forecasts reduced by up to 20% due to lower like-for-like rental growth assumptions and lost rent on the assumed development pipeline. We forecast net asset value, EPRA EPS and DPS compound annual growth rate of 2.1%, 3.5% and 7.4% respectively.
"Despite our NAV upgrades, which see our price target increase to 3,000p, the low TARs we forecast mean the strong total shareholder returns year-to-date of 14%, and relatively slim 17% discount to full-year NAV, in our view, do not warrant a higher rating compared to Great Portland and we downgraded to 'underweight'."
In the same research report, Barclays retained its 'underweight rating' on Derwent rival Great Portland Estates and increased its price target to 650p.