Mondi bags a 30% third quarter profit boost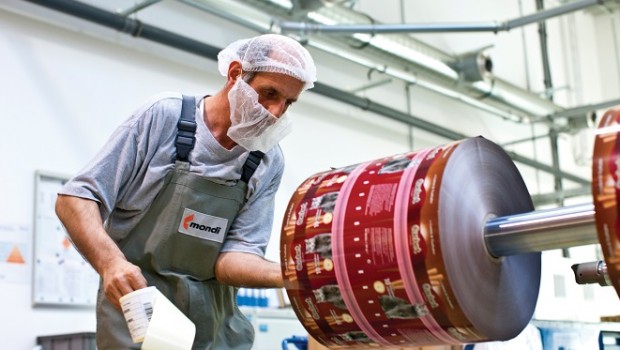 Paper and packaging group Mondi said third quarter underlying earnings rose 30% to €466m (£407m) year-on-year, boosted by higher average selling prices across fibre packaging and uncoated fine paper, cost containment and recent acquisitions.
Underlying earnings before interest, tax, depreciation and amortisation (EBITDA) were up 4% on the second quarter. Selling prices for the group's key paper grades were "significantly up" on the comparable prior year period and marginally up on the second quarter.
Planned mill maintenance shut downs during the quarter hit underlying EBITDA by around €30m and Mondi said the 2018 cost would be around €115m, up from €95m a year ago.
"We continue to see manageable upward pressure on our cost base with input costs up on the comparable prior year period and more moderately up when compared to the second quarter," Mondi said.
"The notable exception was paper for recycling costs, where average benchmark European prices were down 42% on the prior year period and stable sequentially. Cash fixed costs were higher as a result of the impact of mill maintenance shuts and inflationary cost pressures, mitigated by ongoing cost reduction initiatives."
Mondi said the drive to replace plastic carrier bags with paper-based alternatives and increasing demand for sustainable paper-based flexible packaging was creating strong demand for kraft paper as fourth quarter annual price negotiations approached.
"We saw good sales volume growth in corrugated packaging and industrial bags during the period, with industrial bags benefiting from strong sales volume growth in emerging Europe, Middle East and west Africa, partly offset by continued weakness in US markets," the company said.
The uncoated fine paper division continued to perform strongly with higher average selling prices during the quarter offsetting higher input costs and negative currency effects.
Further inflation-linked selling price increases were recently implemented in Europe and Russia. High pulp prices continue to put pressure on Mondi's unintegrated production in Europe.
Cash flow was positive during the quarter as operating activities offset outflows related to capital expenditure and financing.
Mondi said it continued to benefit from stable pricing in key fibre based product segments as it moved into the final quarter.
However the period would be impacted by the large project related shut and ramp-up at its Steti mill in the Czech Republic, restructuring initiatives in industrial bags and continued pressure on the cost base across the group, mitigated by cost reduction programmes.