Keller Group confident despite weaker-than-expected performance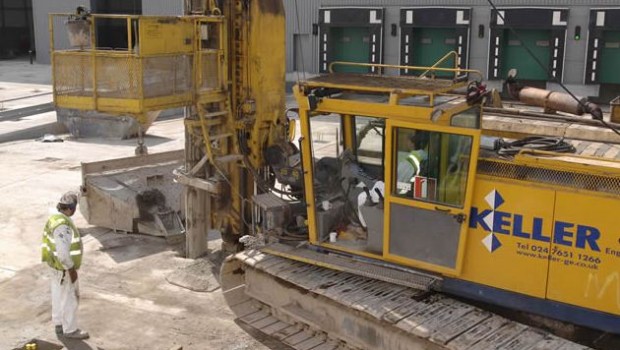 Geotechnical specialist contractor Keller Group updated the market on its trading on Thursday, reporting that its expectations for the full year remained unchanged, supported by "generally stable" market conditions.
The London-listed firm said it had experienced modest trading for the year-to-date, and continued to expect profits to have a second-half bias, as its shareholders gathered for their annual general meeting.
It said its order book remained around £1bn, slightly lower than at the same time last year, which reportedly reflected the previously-announced restructuring in the Asia-Pacific geography.
The order book grew in each of the North America and Europe, Middle East and Africa regions.
"In North America, the adverse steel cost impact in Suncoast experienced in 2018 is now reversing as anticipated and margins have returned to more normal levels," the board said in its statement.
"Moretrench, acquired in 2018, is performing well and planned cost synergies have been exceeded.
"Elsewhere, in North America performance in the first four months has been weaker than anticipated, partly due to mix and partly due to additional costs to recover from the adverse weather experienced in January, but this shortfall is expected to be recovered in the second half."
Keller said there was no material update in respect of the scope adjustment to the Bencor long-term contract, which the company continued to negotiate with the client, and remained confident in the position that had been taken.
In Europe, Middle East and Africa, it said its European businesses were collectively performing in line with expectations, with a "particularly strong" performance from south east Europe.
"The Middle East is having a much quieter year to date following the completion of major projects and the slow development of new projects.
"Franki Africa has continued to struggle and we are managing it closely, although it is bidding on new projects in the region.
"Brazil remains challenging although underlying performance is slightly improved compared to the prior year."
In Asia Pacific, the board said its expectation of a return to profitability in the second half remained on track.
The restructuring in the ASEAN area, and the subsequent refocusing of the business on ground improvement, was said to be proceeding to plan, with asset disposals set to generate additional cash, and profitability continuing to improve.
"India is performing to plan," the board dsaid.
"Market conditions and performance across our Australian businesses remain mixed, with a slower start to the year than anticipated, but a recovery is expected for the year as a whole.
"Austral has been affected in the period by the recent cyclone which has impacted all mining and processing activities in the Pilbara, but is expected to recover well."
The previously-announced restructuring at Waterway had proceeded to plan, and additional action would now be taken in response to the further deterioration in the market.
Overall trading performance in the first four months of 2019 had been lower than anticipated, but was on an improving trend, the board explained.
That, together with the final completion of the company's Caspian project in the first half of last year, meant that its results for the first half of 2019 would be "materially lower" compared to the first half of 2018.
"We continue to expect a much stronger second half, and for full year revenue to be broadly flat on 2018, with an improvement in margin driving a recovery in profit.
"Net debt has risen slightly since year end, albeit less than expected, and debt leverage is expected to increase as anticipated to over 2.0x at the half year.
"However, the expected year-on-year profit improvement together with a strong focus on organic cash generation, means that we expect debt leverage to reduce significantly and to be within the group's 1.0x to 1.5x target range by the year end."
Overall, Keller said it continued to expect to make "good progress" in 2019.
It said it would announce its interim results for the six months ending 30 June on 29 July.