Chemring ending year at upper end of expectations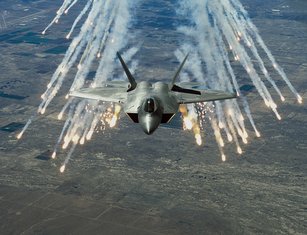 Chemring Group said on Tuesday that despite a "challenging environment", trading in the year so far had progressed as planned, with the expected outturn for the 12 months ending 31 October being towards the upper end of current analyst expectations.
The FTSE 250 company said order intake to 31 August 2020 was up 4% on the same period last year, with its order book on the same date standing at £452m, up from £449m a year earlier, providing "full visibility" for the rest of the year based on expected delivery schedules.
Order cover for the 2021 financial year was building, the board said, with its countermeasures and energetics division having 82% order cover of expected revenue, and the shorter cycle sensors and information sector having 47% cover.
Chemring said its investment in modernisation and automation at its manufacturing sites had continued, funded by "strong" operating cash conversion, with net debt at 31 August standing at £59m, including £6.5m due to the first adoption of IFRS 16.
The board said it expected to be able to maintain that level of operating cash conversion and net debt level through to the year-end.
In the sensors and information sector, Chemring said the period had seen continued strong performance, with order intake up 32% year-on-year.
It said Roke's information security market remained "buoyant", with "strong" customer demand in the national security domain.
Roke had delivered on new programmes for electronic warfare and electronic countermeasures, with deliveries of the first 'Resolve Light' electronic warfare system made to its US customer and another 'Five Eyes' nation.
The US sensors business was also continuing to make progress on its US 'Programs of Record', with delivery milestones on the sole source HMDS explosive hazard detection programme met throughout the period, and the customer issuing a $200m IDIQ contract, with a $21m first delivery order.
Chemring said it progressed into the low-rate initial production phase on the sole source EMBD biological agent detection programme slightly earlier than expected.
It also said it was continuing to support the US Department of Defense in its testing activities as it progressed through the engineering, manufacturing and development phases of the JBTDS biological and AVCAD chemical agent detection programmes.
In the countermeasures and energetics sector, Chemring said performance was progressing in line with its expectations.
It said its global countermeasures business was performing well, with delivery targets across all product lines being met.
The Australian business had made "excellent" progress in the delivery of countermeasures for the US F-35 program, while the UK business was meeting its manufacturing volume objectives and was now focused on driving improved operational efficiency.
Its two US businesses were working through some Covid-19-related challenges associated with the timely completion of customer acceptance tests and staffing levels, but to date those had not had a material impact on the company's ability to deliver, the board claimed.
The Tennessee capacity expansion program was progressing as planned, with various major construction milestones being met, and the first incremental revenues from the new facility expected in the 2022 financial year.
Chemring said its niche energetics businesses were performing well, with order intake and deliveries remaining robust.
Its devices business in Chicago had strengthened its position in the space market, and saw its products play "critical roles" on both the SpaceX NASA Crew Dragon mission to the International Space Station, and NASA's latest mission to Mars, where the company had a number of mission critical devices on NASA's Atlas V launch vehicle and Perseverance Rover.
"This has been a busy period in which the resilience of the group has been demonstrated as we continue to make good progress despite the challenges presented by Covid-19," said chief executive officer Michael Ord.
"Our expectations for the 2020 financial year are towards the upper end of current analyst expectations."
Ord said the company had "good momentum" as it neared the end of the financial year and moved into 2021.
"Despite the near-term uncertainty that Covid-19 was presenting, I remain confident that our leading technologies, deep long-term customer relationships and sole-source or market leading positions mean Chemring's long-term prospects remain strong."
At 0839 BST, shares in Chemring were up 7.77% at 270.5p.