Aston Martin said to be seeking funds to safeguard future, shares tank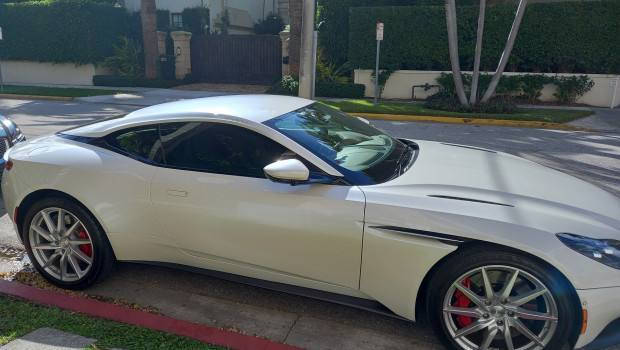 Aston Martin is reportedly looking to raise funds to safeguard its future, wanting to significantly strengthen its financial position as it ramps up investment for its next-generation platforms and future electrification strategy.
According to Autocar, the move comes as a result of the company's ongoing struggles to balance its books as it juggles its cash reserves and income from sales against development costs of new vehicles and debt repayments.
Aston Martin has £1.2bn of outstanding bonds, bank drafts and loans on its books, Autocar said, meaning it's unlikely to be able to raise funds by taking on more debt, especially given the level of repayments currently required to service it.
It was understood the fundraising could include bringing in a significant new investor, potentially offering a position on the company's board as an inducement for a holding that could be valued at more than £200m.
Autocar sources suggested there are two leading contenders for the funding. One is linked to a Saudi Arabian investment fund, with executive chairman Lawrence Stroll having strong links to the country via the Aston Martin Formula 1 team's title sponsorship with oil giant Aramco. The other is linked to an investment fund based on the US west coast.
While Aston Martin's road car and motorsport businesses are separate entities, it's possible that the investment could cover both operations, Autocar said.
No timeline was given for when talks could be concluded, beyond suggesting that there's significant pressure to complete them as soon as possible to safeguard Aston Martin's near-term outlook.
At 1605 BST, the shares were down 9% at 436.50p.
Responding to press speculation, Aston Martin put out a brief statement late in the day backing its full-year guidance and saying that it "regularly keeps its funding options under review".
"Any funding option, if explored and executed, would be to support and accelerate the company's future growth," it said.
The car maker said it continues to trade in line with expectations for FY202. Order books are robust and have strengthened further in recent months, with sports cars sold out into 2023 and order intake for DBX more than 40% higher than the previous year, it said. In addition, Valkyrie production continues to pick up pace.
"The company is delighted with the customer and market reaction to new model derivatives and its recently enhanced management team are increasingly focussed on new model launches from 2023 onwards," it said.