Market buzz: Saudi agrees Eurofighter Typhoon deal, US jobs surge but wages slip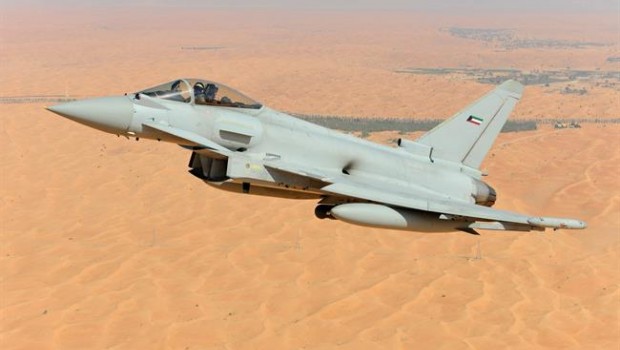 1655: Reports emerging from the US that Goldman Sachs CEO Lloyd Blankfein will retire by the year end.
Elsewhere, US markets have sprinted higher in the wake of an NFP report that may be justifiably described as a 'Goldilocks' update, one that harks back to the easy days of 2017, says analyst Chris Beauchamp at IG.
"Fears of the Fed moving into higher gear with tightening have receded this afternoon, capping gains in the dollar and causing stocks to rocket. It feels like a return to the good old days, particularly when investors have just come through an ECB meeting that reiterated a commitment to loose policy.
With the Nasdaq 100 clocking up a new all-time high, Beauchamp added: "If this slack in the US economy continues then the 'tightening panic' of early 2018 will be seen as an overreaction much like the 'taper tantrum' was. A healthy bounce in the S&P 500 confirms that optimism is not just confined to the tech sector. UK and European markets have pared their losses this afternoon as well with equities looking a much better bet than a month ago."
1655: "Goldilocks is nervous," say Barclays economists in a late note. "The Goldilocks scenario of robust growth and limited inflation pressures remains broadly intact, but this could change if US tariffs lead to a global trade war. Without disruptions to trade flows, the recent weakness in global manufacturing data is likely only a soft patch, also offset by improving services.
"Recent developments seem to reduce North Korea risk, while Italy's elections leave EU politics complicated, even after a new German government is finally formed. While the BoJ signalled it will push normalisation further out, the Fed added hawkish communication this week, while the ECB removed its easing bias."
1645: The FTSE 100 gained 21.27 points to end the week just over 2% higher at 7,224.51.
1629: US Treasury Secretary Steve Mnuchin reportedly saying he expects White House to consider other countries for exemptions from new tariffs.
1603: In remarks to Bloomberg TV, Fed's Evans says inflation at 2.5% would be compatible with a symmetric price stability target.
1512: BAE Systems has confirmed a memorandum of intent between the UK government and Saudi Arabia "to aim to finalise discussions for the purchase of 48 Typhoon aircraft".
1356: The massive 313,000 increase in non-farm payrolls in February, the biggest in 18 months, together with the 54,000 upward revision to gains in the preceding two months, illustrates that the economy is doing much better than the recent incoming activity data have suggested, says Paul Ashworth at Capital Economics. The job participation rate also rebounded to a five-month high of 63.0%, from 62.7%.
"The only negative is that with that 0.1% m/m gain in average hourly earnings, the annual growth rate dropped back to 2.6%, from 2.9%. Nevertheless, with the Fed's latest Beige Book noting that labour shortages are now severe in many industries, that isn't going to prevent a more aggressive monetary tightening this year. This is more evidence that the Fed will need to hike four times this year, starting later this month."
1330: US non-farm payrolls picked-up to a 313,000 pace in February, outstripping forecasts for a gain of 195,000, according to the Department of Labor. Hiring in construction up by 67,000, most since March 2007. Labour force participation rate up by three tenths of a percentage point to 63.0%.
However, the rate of growth in average hourly earnings fell back from 2.9% year-on-year in January to 2.6% (consensus: 2.9%).
1329: "Hearing a huge UK defence deal coming [...] Sources say order for 48 BAE Typhoons for Saudi Arabia coming this afternoon. Williamson and MBS to announce "memo of understanding" at RAF Northolt," tweets the Sunday Times's John Collingridge.
Hearing a huge UK defence deal coming... Sources say order for 48 BAE Typhoons for Saudi Arabia coming this afternoon. Williamson and MBS to announce "memo of understanding" at RAF Northolt

— John Collingridge (@jcollingridgeST) March 9, 2018
1311: Sector scenario analysis of Donald Trump's proposed tariffs leads Oxford Economics to predict the "small benefits to domestic metal-producing industries will be drowned out by job and output losses in metal-using sectors".
"We think they will lead to a net loss of at least 70,000 manufacturing jobs over the next two years and a modestly slower growth rate of overall manufacturing activity. Metals production outside the Americas will likely be little affected, and Canada and Mexico will benefit from exemptions assuming they are agreed."
1305: Bank of America-Merrill Lynch's Bull&Bear 'contrarian' indicator had fallen back further over the last week, from 7.6 to 6.8 on outflows from high yield credit.
1232: GKN, which is currently fending off a £7.4bn hostile bid from turnaround specialist Melrose Industries, has agreed to combine its automotive business, Driveline, with US-based Dana in a deal valued at around $6.1bn.
1024: Three-month LME copper futures are down from $6,890 per metric tonne at Thursday evening's close to $6,798.
0930: UK industrial production rises by 1.3% month-on-month in January (consensus: 1.5%), according to ONS. Construction output was especially weak, falling by 3.4% on the month (consensus: -0.5%). Separately, the total trade balance has printed at -£3.1bn for January, down from -£2.5bn in December, with the latter downwardly revised from an an initial estimate of -£4.9bn.
Rising interest rates and Brexit uncertainty are proving to be a toxic combination for the construction sector, says Pantheon Macroeconomics. "The prospect of further increases in interest rates is subduing buyer demand both for new and existing homes ... Commercial work will continue to fall, if as we expect, progress in Brexit talks remains slow. Meanwhile, public sector investment, which fell by 8.9% month-to-month, likely won't stage a significant recovery either. In next week's Spring Statement, we expect the Chancellor to stick to his plans which include a 4.5% reduction in public sector investment in 2018/19."
0934: A Brexit deal could be completed in December or next January, according to a Bloomberg story citing people familiar with the negotiations, limiting the option for parliament to reject the deal. EU negotiator Michel Barnier wants the withdrawal agreement concluded by October and Brexit Secretary David Davis has said he expected talks to continue until the last minute. But with Parliament promised a "meaningful vote" on the divorce deal before Brexit day in March next year, agreement on a deal just two months from Brexit day will only give MPs "a take-it-or-leave-it choice between accepting the deal, or wreaking chaos by crashing out without one", the piece notes.
0855: Some broker snaps for you.
Barclays says AstraZeneca is its top pick in EU pharma "for its innovative pipeline driven growth story", largely derisked in analysts' view by the clinical successes in the second half of 2017. "However we recognise that FY18 guidance somewhat deferred the awaited growth inflection and in context of current valuation (FY18E core P/E 20x), has left investors awaiting greater evidence of operationalisation (e.g. FLAURA/PACIFIC uptake) and/or further supportive pipeline readouts."
Berenberg has upped its estimates on non-life insurer Hiscox to reflect a growth rate in line with the top-end of management's target range of 5-15%, in view of a strategy that "continues to deliver strongly". In 2017, Hiscox retail achieved top-line growth of 16% with a strong contribution from the US, where premiums increased by 29% in constant currency. The UK and European divisions, meanwhile, grew by 11% and 12% respectively.
Citi has collated commentary from more than 60 global advertisers, focusing on A&P, pricing, promotion and geographical commentary. "Despite some headline grabbing comments we feel encouraged that the CPG [Consumer Packaged Goods] related pressure on agencies should be less bad in 2018."
Citi also lifted its target price on Biffa to 230p from 220p as analysts re-visited their sum-of-the-parts valuation in a number of ways, but kept its 'neutral' rating..
Deutsche Bank retained its 'buy' on Lloyds Banking Group but cut its target price from 83p to 80p. The Strategy 2020 implies 8.5p EPS pre-buyback. The 'GSR3' strategy gives, the first time, an absolute cost target of less than £8bn for 2020, with the company moving to target statutory returns from 2019 (14-15%), and a higher CET1 (14%, as expected). "Importantly, the outlook for below-the-line charges is lower (with investment largely being taken above the line, and PPI nearing the end). We think the 2020 targets imply 8.5p of EPS, which would put the bank on 8x target earnings (sector at 9.6x 2020e)."
0840: The John Lewis Partnership's annual results made for quite sobering reading, says analyst Clive Black at Shore Capital, as the retailer comes to terms with what it calls "subdued consumer demand, political uncertainty and structural change".
Says Black: "JLP is facing into challenges and taking tough decisions that may position it better for the future. As such, whilst we welcome a lower pension deficit and net debt the near term profit outlook remains constrained albeit the group appears up for fighting its corner, through more innovation and investment in product & service."
0817: Looking at Trump, we get a lesson in history from Holger Schmieding, chief economist at Berenberg: "In 1930, the US started a global trade war with its Smoot-Hawley tariffs, raising almost 900 import duties. By the mid-1930s, global trade had halved. A misguided policy intended to support US domestic industries simply worsened the Great Depression."
In terms of sheer numbers, he says the new US tariffs are "too small to matter for the economic outlook", with up to a 0.3% effect on US GDP. "The key issue is how far the ensuing tit-for-tat spiral will turn. While other countries will retaliate, we expect them to do so in a restrained manner. If Congress then prevents Mr Trump from taking the conflict much further, the overall economic damage will be small, with probably no more than a temporary hit to confidence," Schmieding says.
0812: The FTSE 100 opened higher, above 7,200 initially but has since fallen slightly. Overnight, US President Donald Trump signed off on new tariffs to be imposed on steel and aluminium imports into America.
This morning Trade Secretary Liam Fox said the UK will seek an exemption and says he will travel to Washington next week. He said: "We will, of course, be looking to see how we can maximise the UK's case for exemption under these particular circumstances."
0757: Today is US non-farm payrolls day. Unless the jobs report is very bad, markets are pretty certain Federal Reserve policymakers will raise interest rates at their meeting later this month.
The NFP number is expected to rise by almost 200,000 for February, the same as the month before. Average hourly earnings are forecast to rise 0.2% on the month, leading to annual growth easing to 2.8% from growth of 2.9% a month earlier. The unemployment rate has remained steady at 4.1% for the past four consecutive months but some economist see it falling to 4.0%.
Ahead of the Federal Open Markets Committee meeting on 21 March, futures markets are pricing over an 80% chance of a 25-basis-point rate hike.