Director dealings: Restaurant Group execs pick up shares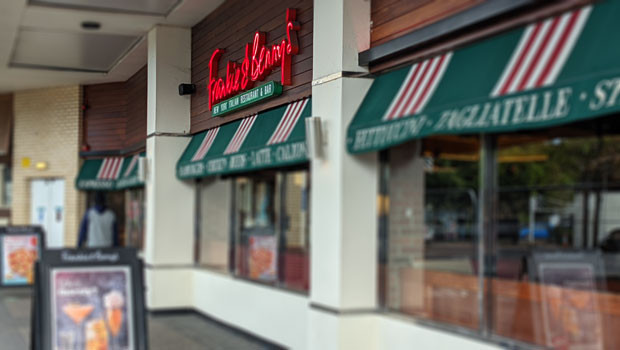 At the top of the list of director buys on a scorching Monday was the Restaurant Group, after two of its executives made investments on the open market.
The company, which operates brands including Frankie & Benny's and Wagamama, said chief executive officer Andy Hornby bought 376,263 shares at 42.25p each, spending a total of £158,971.12.
Its chief financial officer Kirk Davis, meanwhile, picked up 116,867 shares for 42.56p apiece, valuing the transaction at £49,738.59.
Both investments were made on the London Stock Exchange on Friday.
Reporting by Josh White at Sharecast.com.
Top Director Buys
Restaurant Group (RTN)
Director name: Hornby,Andy C
Amount purchased: 376,263 @ 42.25p
Value: £158,971.12

Alphawave Ip Group (AWE)
Director name: Sutardja,Sehat
Amount purchased: 121,809 @ 120.96p
Value: £147,340.16

Fevertree Drinks (FEVR)
Director name: Popkin,Jeff
Amount purchased: 15,208 @ $10.45
Value: $131,049.39

Lindsell Train Inv Trust (LTI)
Director name: Allan,Nicholas
Amount purchased: 50 @ 106,000.00p
Value: £53,000.00

Restaurant Group (RTN)
Director name: Davis,Kirk
Amount purchased: 116,867 @ 42.56p
Value: £49,738.59

Moonpig Group (MOON)
Director name: Keens,David W
Amount purchased: 22,957 @ 187.78p
Value: £43,107.74

Moonpig Group (MOON)
Director name: Keens,David W
Amount purchased: 20,000 @ 187.28p
Value: £37,455.20

Fintel (FNTL)
Director name: Timmins,Matthew Lloyd
Amount purchased: 17,942 @ 190.00p
Value: £34,089.80

Moonpig Group (MOON)
Director name: Keens,David W
Amount purchased: 9,900 @ 189.69p
Value: £18,779.75

Moonpig Group (MOON)
Director name: Keens,David W
Amount purchased: 10,000 @ 187.25p
Value: £18,725.04

Marshalls (MSLH)
Director name: Bourne,Simon
Amount purchased: 3,193 @ 463.00p
Value: £14,783.59

Time Finance (TIME)
Director name: Rimmer,Edward
Amount purchased: 54,347 @ 18.40p
Value: £9,999.85

Lifesafe Holdings (LIFS)
Director name: James Stilwell,Michael
Amount purchased: 16,500 @ 60.00p
Value: £9,900.00

Savannah Resources (SAV)
Director name: Ferguson ,Dale
Amount purchased: 280,000 @ 3.00p
Value: £8,400.00

Savannah Resources (SAV)
Director name: Ferguson ,Dale
Amount purchased: 255,000 @ 3.08p
Value: £7,854.00

Lifesafe Holdings (LIFS)
Director name: Peter Clive Berger,Dominic
Amount purchased: 4,150 @ 60.00p
Value: £2,490.00

Savannah Resources (SAV)
Director name: Ferguson ,Dale
Amount purchased: 2,300 @ 2.35p
Value: £54.05


Top Director Sells
Deliveroo Class A (ROO)
Director name: Miller,Adam
Amount sold: 40,407 @ 85.00p
Value: £34,345.95

Centralnic Group (CNIC)
Director name: Siffrin,Alexander Oskar
Amount sold: 10,370 @ 1.40
Value: 13,079.28