Director dealings: DWF Group director makes share sale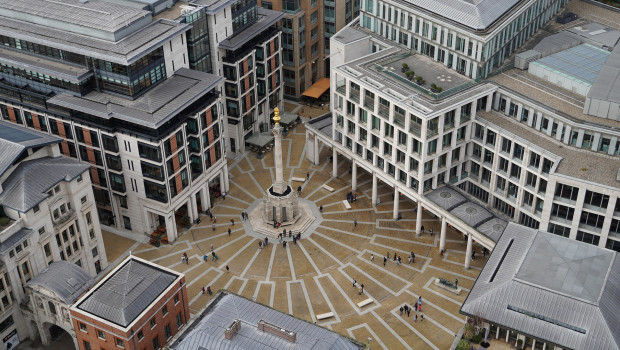 DWF Group said on Wednesday that director Seema Bains had disposed of 137,254 ordinary shares in the London-listed legal business.
Bains, who joined DWF in 2009, sold the shares on Tuesday at an average price of 107.0p each, for a total value of £146,861.79.
As of 1600 BST, DWF shares were down 1.84% at 106.50p.
Top Director Buys
Aveva Group (AVV)
Director name: Herweck,Peter
Amount purchased: 13,500 @ 3,548.00p
Value: £478,979.99

U And I Group (UAI)
Director name: Upton,Richard
Amount purchased: 94,639 @ 95.60p
Value: £90,474.88

Starvest (SVE)
Director name: Baxter,Callum N
Amount purchased: 162,162 @ 18.50p
Value: £29,999.97

Bank Of Cyprus Holdings Public Limited Company (cdi) (BOCH)
Director name: Iordanou,Constantine
Amount purchased: 28,464 @ 88.77p
Value: £25,267.49

Starvest (SVE)
Director name: Cryan ,Gemma
Amount purchased: 113,473 @ 18.50p
Value: £20,992.51

Helios Underwriting (HUW)
Director name: Hanbury,Nigel
Amount purchased: 12,800 @ 155.05p
Value: £19,846.40

Helios Underwriting (HUW)
Director name: Hanbury,Nigel
Amount purchased: 12,800 @ 155.05p
Value: £19,846.40

Helios Underwriting (HUW)
Director name: Hanbury,Nigel
Amount purchased: 12,800 @ 155.05p
Value: £19,846.40

Helios Underwriting (HUW)
Director name: Hanbury,Nigel
Amount purchased: 12,800 @ 155.05p
Value: £19,846.40

Victrex Plc (VCT)
Director name: Armitage ,Richard
Amount purchased: 800 @ 2,454.00p
Value: £19,632.00

Synectics (SNX)
Director name: Coggins,Stephen
Amount purchased: 13,790 @ 140.00p
Value: £19,306.00

Bank Of Cyprus Holdings Public Limited Company (cdi) (BOCH)
Director name: Iordanou,Constantine
Amount purchased: 13,662 @ 88.53p
Value: £12,094.70

U And I Group (UAI)
Director name: Upton,Richard
Amount purchased: 7,500 @ 94.90p
Value: £7,117.50

Ferguson (FERG)
Director name: Brundage,Bill
Amount purchased: 127 @ 4,315.00p
Value: £5,480.05

Touchstone Exploration Inc Npv (di) (TXP)
Director name: Baay,Paul R.
Amount purchased: 3,086 @ $1.60
Value: $2,921.14

Bank Of Cyprus Holdings Public Limited Company (cdi) (BOCH)
Director name: Iordanou,Constantine
Amount purchased: 639 @ 88.20p
Value: £563.60

Ultra Electronics Holdings (ULE)
Director name: Sclater,Jos
Amount purchased: 7 @ 2,082.00p
Value: £145.74

Ultra Electronics Holdings (ULE)
Director name: Pryce,Simon
Amount purchased: 7 @ 2,082.00p
Value: £145.74


Top Director Sells
Dwf Group (DWF)
Director name: Bains,Seema
Amount sold: 137,254 @ 107.00p
Value: £146,861.79

Renewi (RWI)
Director name: Woolrych,Toby
Amount sold: 81,350 @ 55.25p
Value: £44,945.88

Victrex Plc (VCT)
Director name: Armitage ,Richard
Amount sold: 1,266 @ 2,462.00p
Value: £31,168.92

Renewi (RWI)
Director name: Woolrych,Toby
Amount sold: 48,271 @ 55.25p
Value: £26,669.73

Helios Underwriting (HUW)
Director name: Hanbury,Nigel
Amount sold: 12,800 @ 155.00p
Value: £19,840.00

Helios Underwriting (HUW)
Director name: Hanbury,Nigel
Amount sold: 12,800 @ 155.00p
Value: £19,840.00

Helios Underwriting (HUW)
Director name: Hanbury,Nigel
Amount sold: 12,800 @ 155.00p
Value: £19,840.00

Helios Underwriting (HUW)
Director name: Hanbury,Nigel
Amount sold: 12,800 @ 155.00p
Value: £19,840.00

Renewi (RWI)
Director name: Bont,Otto de
Amount sold: 15,174 @ 55.25p
Value: £8,383.64