YouGov in 'strong position' as revenue, profits rise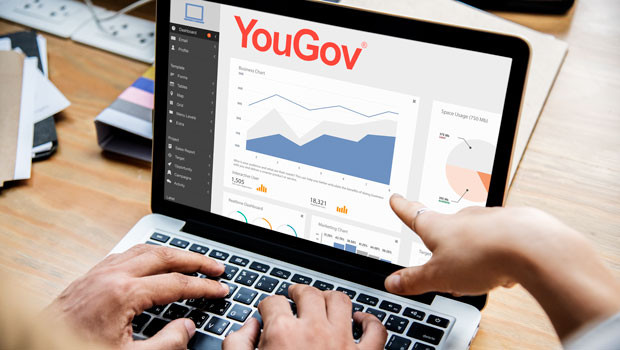 YouGov reported revenue growth of 11% in its full-year results on Tuesday, to £169m, with underlying growth coming in at 18% for the 12 months ended 31 July, on the back of "strong delivery" in its second half.
The AIM-traded firm said underlying operating profit, excluding the impact of the planned Kurdistan closure and foreign exchange movements, was up 32% to £25.5m, representing an underlying operating profit margin of 16%, compared to 14% in the 2020 financial year.
It said that growth was driven by all three divisions, and despite the absorption of an increased non-cash share-based payment charge of £5.1m.
YouGov's statutory operating profit was up 25% to £19.0m, including a separately-reported items charge of £6.5m over completed acquisitions.
Adjusted profit before tax rose 21% to £31.2m, and adjusted earnings per share were ahead 15% at 20.8p.
The company described its cash conversion as "strong" at 123%, compared to 104% in the prior year, enabling YouGov to continue investing in its business.
It maintained its "robust" balance sheet, with net cash at year end standing at £35.5m, in line with the £35.3m at the end of the 2020 period, and no debt.
The board proposed a dividend increase of 20%, to 6.0p per share.
Looking ahead, YouGov reported an "encouraging start" to the new financial year, with a "healthy" sales pipeline and continued strong momentum.
It said it was continuing to invest in its panel, technology and platforms, while trading in the current year had started in line with the board's expectations.
"We are pleased to end this financial year in line with our expectations, demonstrating sustained growth despite the continuing disruption caused by the pandemic," said chief executive officer Stephan Shakespeare.
"This is testament to the resilience of our business model, the hard work of our people and heightened demand for YouGov's tailored solutions, providing valuable opinions and consumer insights to help our clients make informed decisions.
"YouGov also continues to demonstrate momentum on the stated strategy as we enter the third year of our second long-term strategic growth plan."
Shakespeare said the company believed the investments made in the first half of its plan had placed YouGov in a "strong position" for the final two years.
"We have started off the new financial year well.
"We expect current positive trends to continue in the coming months which gives us confidence for the future."
At 1420 BST, shares in YouGov were up 2.92% at 1,320p.