Hotel Chocolat keeps interim dividend nil as revenue, earnings rise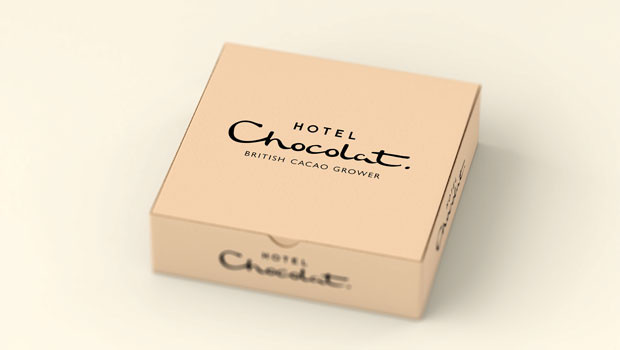 Hotel Chocolat Group reported a 40% improvement in revenue in its interim results on Wednesday, to £142.9m, with underlying EBITDA rising 35% to £33.8m.
The AIM-traded premium chocolate maker said its profit before tax was 56% firmer year-on-year for the 26 weeks ended 26 December, at £24.1m.
It recorded a "strong" balance sheet, with net cash at period end totalling £53.8m, and earnings per share coming in at 14.2p.
On the investment front, Hotel Chocolat said it had deployed 50% of its placing proceeds on its future growth strategies.
Its board declared no interim dividend, in line with the prior year.
Operationally, Hotel Chocolat reported "strong" sales growth, reflecting its growing brand appeal in the UK, the United States and Japan, with a 38% increase in its active UK customer database reported, to 2.3 million.
It described "digital-led" growth in the US, where active customer numbers grew 119%, while its Japanese joint-venture's sales to consumers were ahead 131%.
Inflationary impacts were mitigated, the company claimed, with profit growing faster than sales growth, while its sustainability programmes made further progress with the on-the-ground launch of a new 'Gentle Farming' approach for cocoa growing in Ghana.
"I am delighted that we have achieved a great set of results both in terms of sales and profits, indicating the global strength of the Hotel Chocolat brand and our direct-to-consumer business model," said co-founder and chief executive officer Angus Thirlwell.
"These results enable continued new job creation based in our British manufacturing operations, as well as roles in technology and multi-channel retailing.
"In the UK, we continued to entice many new customers to Hotel Chocolat, growing our active customer database by 38% to 2.3 million."
Thirlwell said the company's "unparalleled pipeline" of new product launches meant the firm would be able to "excite and retain" their custom.
"In the US, our digital model drove an increase of 119% in our active customer database, with our Velvetiser in-home drinks system proving a great hit, and in Japan our customer database grew strongly, with the joint venture business now truly multi-channel, across online, digital partners, and 31 stores.
"A key personal highlight in the period took place in Ghana, where we launched our pioneering 'Gentle Farming' programme, meeting with farming families, local community groups, and the government."
The programme funds an achievable "decent living" income, while replanting indigenous trees to shade the cacao and regenerate biodiversity, Angus Thirlwell explained.
"The last two years have been a period of very significant change both globally and within the business as we have evolved from a UK store-led brand to a globally ambitious digital-led brand with a broad-range of luxury cacao products.
"The team has successfully managed to adapt to the continuously changing landscape and we have remained focused on our opportunities, delivering a sustained acceleration in growth over the last 18 months.
"Since the end of the financial reporting period, trading has continued to be in line with the board's expectations."
Thirlwell said multi-channel performance in the UK remained "encouraging", with new markets continuing to show "promising potential" for growth and profitability.
"A focus on bringing happiness through chocolate in every aspect of our business model will further strengthen and nurture the appeal of our brand, helping us achieve our goal of becoming the leading global direct-to-consumer premium chocolate brand."
At 1038 GMT, shares in Hotel Chocolat Group were down 2.22% at 440p.