Senior revenues slide as its end markets remain weak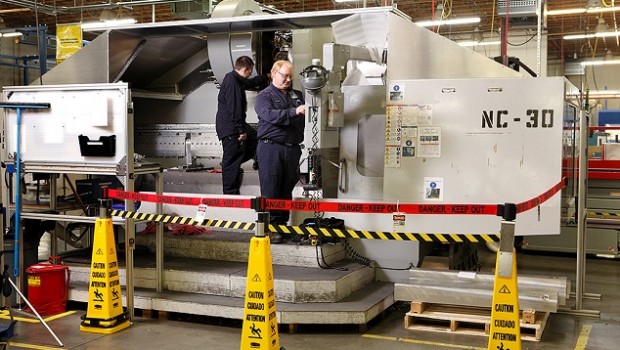 Aerospace and defence technology company Senior reported "robust" cash performance in the half-year ended 30 June on Friday, although it did warn that its revenue would be almost a third lower than the prior year.
It said it generated £3m net cash inflow in the face of "significant disruption" to its end markets.
The London-listed firm said net debt was expected to be £239m at period end, with £162m of headroom on its committed borrowing facilities, making for an improvement of £3m from 31 December.
All of the company's manufacturing sites were operational, the board reported, with appropriate health and safety measures in place.
It was also upbeat on the start of formal certification of the grounded 737 MAX fleet by the US Federal Aviation Administration, and the manufacturer Boeing, on 29 June.
"In our market update on 24 April, we reported that trading for the three months ended 31 March was slightly ahead of our expectations coming into the year, despite the tangible impact of the coronavirus during March," the board noted in its statement.
"As expected, in the second quarter that impact was more pronounced with aviation, land vehicles and power and energy markets severely affected.
"As a result, activity significantly slowed across both our Aerospace and Flexonics divisions, as customers temporarily closed their facilities and lowered production rates."
Senior said it now expected group revenue in the first half would be around 30% lower than the first half of 2019, and as a result, margins would be significantly lower.
The group put its underlying cash performance down to its focus on conserving cash through "careful management" of capital expenditure and working capital, especially inventory.
Net debt at the end of June was expected to be around £239m, including capitalised leases of £84m and adverse currency movements of £12m.
At the time of its 2019 results in early March, Senior said its expectation was for Aerospace revenue in 2020 to be around 20% below 2019 levels as a result of Boeing's temporary halt in 737 MAX production, and its decision to not renew certain contracts which did not meet its returns requirements.
In addition to that, it said on Friday that the impact of Covid-19 had led to "severe" end market disruption and, as a result, it now expected aerospace sales in the first half to be around 31% lower year-on-year.
On a quarterly constant currency basis, Aerospace sales were expected to have declined 22% in the first quarter and 40% in the second.
"Economic forecasts at the time of our full-year results suggested that Flexonics' cyclical end markets would decline in 2020, before recovering in 2021, and Flexonics revenue was expected to be lower in 2020 compared to 2019," the board added.
At that time, ACT Research forecast the North American heavy-duty diesel truck market to decline 34% in 2020, and in the upstream oil and gas market, the US rig count was expected to contract in 2020.
With the additional impact of the coronavirus pandemic on the land vehicle and the oil and gas markets, it said it now expected Flexonics sales in the first half to be around 27% lower than the same period in 2019.
On a quarterly constant currency basis, Flexonics sales were expected to have declined 23% in the first quarter and 33% in the second, year-on-year.
Looking ahead, Senior said that in civil aerospace, the "significant reduction" in production rates seen in the second quarter was expected to continue in the second half of 2020 and into 2021.
While it was likely to take "several years" for air traffic to return to 2019 levels, the demand for air travel was expected to continue to grow in the medium and long term.
The lower operating cost and better sustainability of new aircraft, on which Senior has "significant" content, would continue to be a necessity for the airline industry, the board claimed.
In Flexonics, it said it was not anticipating meaningful improvement in its end markets in the second half of 2020.
The latest ACT forecast was for the North American heavy-duty market to decline 61% in 2020, with a return to growth in 2021.
In oil and gas, it said it was expecting the "significantly lower" equipment demand to be maintained for the rest of the year.
While the company expected that the structural long-term drivers of its end markets would remain in place, trading for the rest of 2020 would continue to be impacted by Covid-19, and as a result, Senior said guidance for 2020 remained suspended.
"The coronavirus pandemic has had a profound effect on our markets and customers since March and the impact will be with us for some time to come," said group chief executive officer David Squires.
"Throughout, our highest priority was, and remains, the health and welfare of our employees.
"They have worked tirelessly and skilfully in response to the changing environment, which, in turn, has allowed business continuity to be the very best it could be."
Squires said that in the face of such "extraordinary" conditions, the group had focussed "relentlessly and effectively" on cash preservation and liquidity.
"Based on our analysis of economic and industry expert forecasts, and our customers' response to those, we expect the difficult conditions to remain for many months to come.
"Our original restructuring programme has progressed in line with plans."
While the company was "doing everything possible" to sustain jobs, Squires said that market conditions were such that it had "extended and broadened" the scope of its restructuring, and would provide more details of that at its interim results.
"However, we remain confident that in the medium term, our differentiated offering in fluid conveyance and thermal management products, our global footprint and our positioning in attractive and diverse end markets will help to ensure that we emerge strongly as the recovery starts to take shape."
At 0845 BST, shares in Senior were down 4.13% at 58.1p.