AG Barr toasts 'record' first-half profits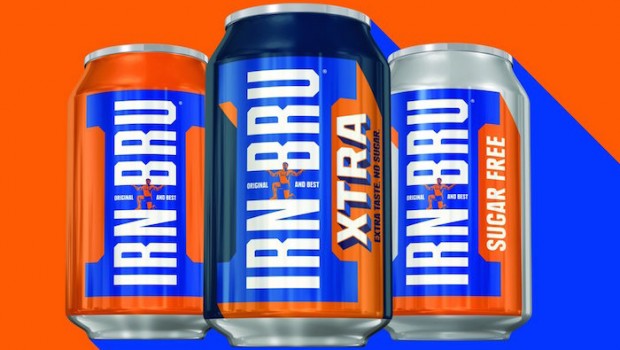 Irn-Bru owner AG Barr hailed "positive momentum" across its core brands in the first half, as hospitality re-opened and demand picked up post lockdown.
In 2020, the UK soft drinks market shifted from out-of-home venues to at-home consumption only, as lockdown measures closed cafes, pubs and other hospitality venues.
But AG Barr said on Tuesday that it had seen a recovery in "on-the-go" consumption in recent months, which had created "positive momentum" for its core soft drink brands. Sales of Irn-Bru rose 18.9% in the 27 weeks to 1 August while Rubicon-branded sales, excluding the newly-launched Rubicon RAW Energy, jumped 26.2%.
Its cocktail brand Funkin, meanwhile, was boosted as pubs and bars re-opened, with sales to the on-trade sector surging 229.5%. At-home cocktail sales rose 114.3% to £10.2m, representing 54% of Funkin's total sales in the first half.
Group revenue rose 19.5% to £135.3m, while profits before tax and exceptional items increased 42.8% to £23.7m. Pre-tax profits rose to £24.4m from £5.1m a year previously.
Roger White, chief executive, said: "AG Barr is a growth-focused business operating in resilient and growing market categories. Our positive first-half performance reflects these fundamentals as well as the encouraging performance of recent innovation launches in both soft drinks and cocktails.
"We remain on track to deliver strong full-year profit performance, slightly ahead of our 2019/2020 pre-Covid level."
He added: "Our full-year planning takes into account the first-half benefits which will not repeat in the second half, as well as the impact of cost inflation later in the year, reflecting the well-documented pressure on supply chains and rising commodity prices."
Wayne Brown, analyst at Liberum, said the first half had been "very strong," adding: "Record first-half profit reflects positive underlying volume momentum, as well as a number of benefits which will not repeat in the second half. The full-year operating margin is expected to be slightly ahead of the prior year."
As at 1215 BST shares in AG Barr were off 2% at 526.0p.