US close: Wall Street weaker as Fed stays firm on easy policy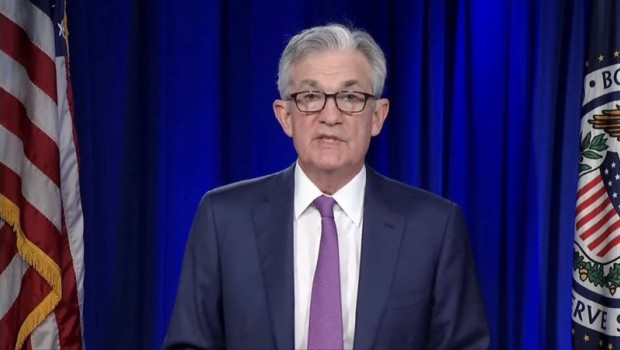 Wall Street stocks finished in negative territory on Wednesday, as the Fed announced the continuation of its current easy policy, even while acknowledging that the US economy was accelerating.
At the close, the Dow Jones Industrial Average was down 0.48% at 33,820.38, as the S&P 500 lost 0.09% to 4,183.18, and the Nasdaq Composite was off 0.28% at 14,051.03.
The Dow closed 164.55 points lower on Wednesday, reversing modest gains recorded in the previous session.
Market participants had their expectations met by the Federal Reserve late in the session, as the central bank kept its short-term interest rate targets near zero, and confirmed it would continue to buy at least $120bn per month of bonds.
That standstill on policy came even as the Fed acknowledged the strength shown by the US economy in the early months of 2021, and offered no signals that its policy would change in the foreseeable future.
The central bank's chairman Jerome Powell described the economic recovery as "uneven and far from complete", noting that a likely uptick in prices in the coming months were likely to be one-time movements, with a minimal impact on real inflation.
"It will take some time before we see substantial further progress," Powell said after the two-day meeting of the Federal Open Market Committee.
In economic news, mortgage application volume fell 2.5% week-on-week in the seven days ended 23 April according to the Mortgage Bankers Association.
That was despite the average contract interest rate for 30-year fixed-rate mortgages with conforming loan balances decreasing to 3.17% from 3.20%, with points decreasing to 0.30 from 0.36 for loans with a 20% down payment, to their lowest rate since the end of February.
Elsewhere, the US trade goods balance for March came in at -$90.6bn, a 4% widening month-on-month, with exports increasing 8.7% and imports growing 6.8%, according to the Commerce Department.
An advance reading of last month's wholesale inventories report revealed wholesale inventories shot up 1.4% after rising 0.9% in February.
However, stocks at retailers tumbled 1.4% after ticking up 0.1% in February.
On the equity front, Google parent company Alphabet rose 3.16% after posting better-than-expected earnings after the close on Tuesday.
Microsoft shares, meanwhile, slid 2.83% despite topping analyst's estimates with its largest revenue growth since 2018.
Starbucks lost 3.23% after the caffeine pusher hiked its full-year outlook, with US same-store sales growth predicted to return to pre-pandemic levels.
Aircraft manufacturer Boeing was 2.89% weaker after posting a sixth consecutive quarterly loss, although it did still expect to turn a profit for 2021.
Dow Jones - Risers
Chevron Corp. (CVX) $105.22 2.45%
Visa Inc. (V) $233.45 1.54%
American Express Co. (AXP) $152.54 1.45%
Salesforce.Com Inc. (CRM) $236.88 1.14%
Dow Chemical Co. (DOW) $63.31 1.05%
Caterpillar Inc. (CAT) $232.40 0.85%
3M Co. (MMM) $195.93 0.76%
International Business Machines Corporation (CDI) (IBM) $143.00 0.70%
JP Morgan Chase & Co. (JPM) $152.23 0.65%
Goldman Sachs Group Inc. (GS) $348.11 0.43%
Dow Jones - Fallers
Amgen Inc. (AMGN) $236.71 -7.22%
Boeing Co. (BA) $235.46 -2.89%
Microsoft Corp. (MSFT) $254.56 -2.83%
McDonald's Corp. (MCD) $232.41 -1.09%
Nike Inc. (NKE) $130.71 -1.06%
Travelers Company Inc. (TRV) $153.79 -0.91%
Johnson & Johnson (JNJ) $161.98 -0.74%
Walt Disney Co. (DIS) $183.39 -0.68%
Intel Corp. (INTC) $57.62 -0.60%
Apple Inc. (AAPL) $133.58 -0.60%
S&P 500 - Risers
National Oilwell Varco Inc. (NOV) $14.88 9.57%
FMC Technologies Inc. (FTI) $7.91 9.10%
Devon Energy Corp. (DVN) $24.03 8.54%
Hess Corp. (HES) $75.94 7.79%
Apache Corp. (APA) $20.49 7.67%
Helmerich & Payne Inc. (HP) $27.03 6.88%
Marathon Oil Corp. (MRO) $11.75 6.43%
Cimarex Energy Co (XEC) $67.26 5.70%
Synchrony Financial (SYF) $43.03 5.65%
Diamondback Energy Inc. (FANG) $83.68 5.50%
S&P 500 - Fallers
F5 Networks Inc. (FFIV) $186.70 -9.08%
Amgen Inc. (AMGN) $236.71 -7.22%
Automatic Data Processing Inc. (ADP) $186.62 -4.73%
Texas Instruments Inc (TXN) $181.82 -4.41%
Discovery Inc. Class A (DISCA) $37.49 -3.90%
Micron Technology Inc. (MU) $86.03 -3.83%
Discovery Inc. Class C (DISCK) $31.96 -3.65%
Essex Prty Trust Inc. (ESS) $287.00 -3.39%
Starbucks Corp. (SBUX) $112.40 -3.23%
CH Robinson Worldwide Inc (CHRW) $93.63 -3.06%
Nasdaq 100 - Risers
Trip.com Group Limited (TCOM) $40.73 3.72%
Mondelez International Inc. (MDLZ) $60.88 3.68%
Liberty Global plc Series C (LBTYK) $26.74 3.44%
Alphabet Inc. Class C (GOOG) $2,379.91 3.16%
Alphabet Inc. Class A (GOOGL) $2,359.04 2.97%
Liberty Global plc Series A (LBTYA) $26.53 2.87%
NetEase Inc. Ads (NTES) $114.27 2.30%
Wynn Resorts Ltd. (WYNN) $130.27 1.97%
Booking Holdings Inc. (BKNG) $2,505.10 1.66%
Fiserv Inc. (FISV) $123.42 1.45%
Nasdaq 100 - Fallers
Amgen Inc. (AMGN) $236.71 -7.22%
Automatic Data Processing Inc. (ADP) $186.62 -4.73%
Texas Instruments Inc (TXN) $181.82 -4.41%
Sirius XM Holdings Inc (SIRI) $6.07 -3.88%
Micron Technology Inc. (MU) $86.03 -3.83%
Starbucks Corp. (SBUX) $112.40 -3.23%
Microsoft Corp. (MSFT) $254.56 -2.83%
Western Digital Corp. (WDC) $70.60 -2.55%
Maxim Integrated Products Inc. (MXIM) $94.58 -2.41%
Analog Devices Inc. (ADI) $156.06 -2.19%