US close: Dow Jones narrowly extends Monday's gains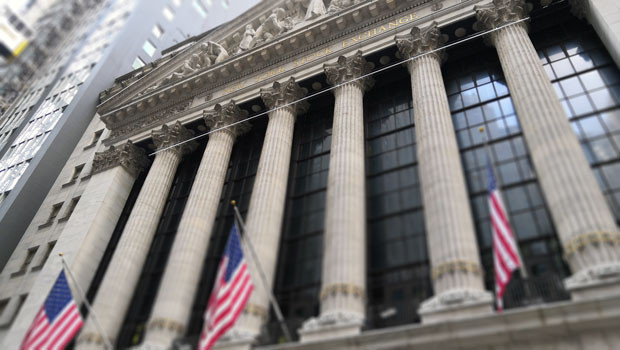 Wall Street stocks put on a mixed performance on Tuesday as the Dow Jones staged a late reversal and narrowly extended Monday's gains into the new session.
At the close, the Dow Jones Industrial Average was up 0.15% at 31,928.62, while the S&P 500 was 0.81% softer at 3,941.48 and the Nasdaq Composite saw out the session 2.35% weaker at 11,264.45.
The Dow closed 48.38 points higher on Tuesday, extending gains recorded in the previous session when investor sentiment got a boost after Joe Biden stated he was mulling over the idea of lowering tariffs on certain products imported into the States from China.
The yield on the benchmark 10-year Treasury note moved lower on Tuesday as market participants turned their attention towards bonds amid ongoing fears of a recession. The 10-year note fell to as low as about 2.73%.
In focus on Tuesday, shares in social media outfit Snap crashed after the firm warned that it would miss earnings and revenue targets in its current trading quarter and also cautioned of a slowdown in hiring. Big-name tech firms Meta Platforms and Pinterest both followed Snap's lead and traded lower at the open.
In terms of earnings, Abercrombie & Fitch shares fell after it revealed freight and product costs had weighed on sales throughout the first quartet, while Best Buy shares dipped after reporting a mixed quarterly performance.
On the macro front, a flash reading of S&P's global composite PMI printed at 53.8 in May, down from 56.0 in April, for the weakest rate of expansion of output across private sector firms in four months. The index is now below the series long-run average of 54.8.
Elsewhere, new US home sales decreased to 591,000 units in April, down from 709,000 units in March, according to the Census Bureau, while the Richmond Fed's manufacturing index decreased to -9 points in May, down from 14 points in April.
Reporting by Iain Gilbert at Sharecast.com
Dow Jones - Risers
McDonald's Corp. (MCD) $244.52 2.74%
Verizon Communications Inc. (VZ) $50.68 2.03%
International Business Machines Corporation (CDI) (IBM) $133.80 2.01%
Coca-Cola Co. (KO) $64.02 1.85%
Procter & Gamble Co. (PG) $147.63 1.78%
JP Morgan Chase & Co. (JPM) $126.36 1.41%
Walmart Inc. (WMT) $124.13 1.25%
Amgen Inc. (AMGN) $251.89 1.14%
Unitedhealth Group Inc. (UNH) $497.56 1.11%
Johnson & Johnson (JNJ) $181.40 1.09%
Dow Jones - Fallers
Walt Disney Co. (DIS) $101.59 -4.01%
Boeing Co. (BA) $119.40 -3.76%
Visa Inc. (V) $202.63 -2.38%
American Express Co. (AXP) $155.63 -2.14%
Salesforce.Com Inc. (CRM) $156.93 -2.11%
Apple Inc. (AAPL) $140.36 -1.92%
Nike Inc. (NKE) $107.29 -1.23%
Goldman Sachs Group Inc. (GS) $313.95 -0.84%
Intel Corp. (INTC) $41.67 -0.79%
Dow Chemical Co. (DOW) $67.07 -0.62%
S&P 500 - Risers
AutoZone Inc. (AZO) $1,910.22 5.82%
O'Reilly Automotive Inc. (ORLY) $608.35 5.05%
H&R Block Inc. (HRB) $34.58 4.76%
Alliant Energy Corp. (LNT) $61.32 3.93%
Sba Communications Corp. (SBAC) $347.07 3.88%
CenturyLink Inc. (LUMN) $11.88 3.76%
American Tower Corp (Reit) (AMT) $258.52 3.65%
Philip Morris International Inc. (PM) $106.62 3.61%
Campbell Soup Co. (CPB) $47.76 3.47%
Crown Castle International (CCI) $191.61 3.46%
S&P 500 - Fallers
Norwegian Cruise Line Holdings Ltd (NCLH) $13.29 -11.99%
Carnival Corp. (CCL) $11.76 -10.30%
Royal Caribbean Cr (RCL) $49.73 -10.20%
Omnicom Group Inc. (OMC) $69.47 -8.42%
Gap Inc. (GPS) $9.47 -8.33%
Meta Platforms Inc. (FB) $181.28 -7.62%
American Airlines Group (AAL) $15.50 -7.46%
MGM Resorts International (MGM) $31.11 -7.44%
United Airlines Holdings Inc (UAL) $41.57 -7.13%
Mattel Inc. (MAT) $21.62 -6.24%
Nasdaq 100 - Risers
O'Reilly Automotive Inc. (ORLY) $608.35 5.05%
Vodafone Group Plc ADS (VOD) $16.55 3.37%
Electronic Arts Inc. (EA) $136.63 2.14%
Costco Wholesale Corp. (COST) $437.71 1.92%
Kraft Heinz Co. (KHC) $39.63 1.64%
Biogen Inc (BIIB) $202.54 1.57%
Mondelez International Inc. (MDLZ) $63.00 1.55%
Amgen Inc. (AMGN) $251.89 1.14%
Charter Communications Inc. (CHTR) $479.02 1.13%
Gilead Sciences Inc. (GILD) $64.35 1.08%
Nasdaq 100 - Fallers
Mercadolibre Inc. (MELI) $699.86 -9.61%
Qurate Retail Inc. (QRTEA) $3.25 -8.71%
Meta Platforms Inc. (FB) $181.28 -7.62%
American Airlines Group (AAL) $15.50 -7.46%
JD.com, Inc. (JD) $49.58 -7.03%
Tesla Inc (TSLA) $628.16 -6.93%
Baidu Inc. (BIDU) $115.73 -6.67%
Wynn Resorts Ltd. (WYNN) $58.19 -6.05%
Alphabet Inc. Class C (GOOG) $2,118.52 -5.14%
Alphabet Inc. Class A (GOOGL) $2,119.40 -4.95%