Inditex postpones dividend as forced shop closures rock sales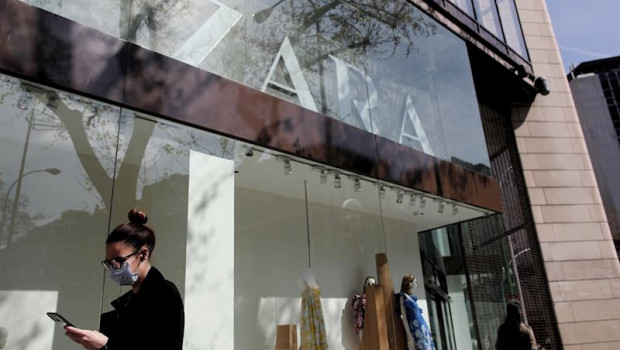 Spanish retail giant Inditex has postponed its dividend after sales slumped in the wake of the coronavirus outbreak.
The owner of Zara, Pull&Bear and Massimo Dutti said instore and online sales had decreased 4.9% between 1 February and 16 March, and had 24.1% between 1 and 16 March. As of Wednesday, 3,785 shops across 39 markets had been closed because of the outbreak, although all stores bar 11 in China were now open.
As a consequence, the world's biggest clothing retailer, which at the end of 2019 had 7,469 stores worldwide, has booked a €287m inventory provision and delayed the dividend.
It said: "The board of directors, in view of the current uncertain situation due to the Covid-19 pandemic, considers that it is not the right moment to take a decision on the dividend to be proposed relating to the full year 2019.
"Consequently, the net income generated will be allocated to reserves with a view to submitting a final proposal on dividends at a later board meeting proper to the [July] AGM."
The update came as the retailer posted annual net sales of €28.3bn for the year to 31 January 2020, an 8% increase, while underlying like-for-like sales – which strip out the effects of new store openings – rose 6.5%, compared to 4% in 2018.
Gross profit rose 7% to €15.8bn and net income was ahead 6% at €3.6bn, or by 12% excluding the inventory provision.
Looking ahead, Inditex said: "While it is too early to quantify the future impact of the pandemic on our operations in 2020, we are following events closely. We remain fully confident in the strength and flexibility of our business model and long-term competition position. The underlying growth rate in like-for-like sales of Inditex continues to be 4% to 6%."
RBC Capital Markets conceded that current trading was "extremely tough", but added: "In a tough sector, we think Inditex is relatively well positioned, due to its high margin and strong balance sheet.
"We think continued LFL sales outperformance should be driven by strong online growth, Inditex's speed to market and relatively integrated store and online business model."
Spain, home to Inditex's largest network of stores, has been hit hard by the coronavirus outbreak. The epidemic is spreading there faster than anywhere else in the world, and the authorities have used to emergency powers to lock down the country, including confining people to their homes.
Shares in Inditex were trading 2% lower by 1145 GMT. Founder Amancio Ortego controls the group with a 59% stake.