Director dealings: Universe Group chairman makes share purchase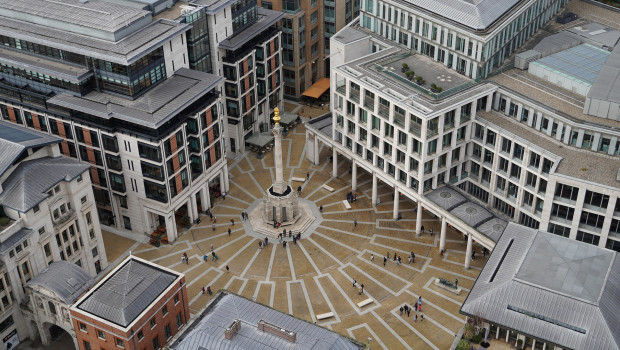 Universe Group revealed on Thursday that chairman Andrew Blazye had acquired 22.84m ordinary shares in the AIM-listed point of sale systems supplier.
Blazye, who took over as chairman in December 2017, purchased the shares at an average price of 5.0p each, for a total value of £1.14m.
The shares were acquired from Darragh Fanning, the founder of Celtech, which was acquired by Universe in April 2019.
As of 1640 BST, Universe shares were down 1.48% at 5.0p.
Top Director Buys
Universe Group (UNG)
Director name: Blazye,Andrew Robert
Amount purchased: 22,842,784 @ 5.00p
Value: £1,142,139.22

Oakley Capital Investments Ltd. (di) (OCI)
Director name: Till,David
Amount purchased: 122,000 @ 359.00p
Value: £437,979.99

Wickes Group (WIX)
Director name: Clare,Mark
Amount purchased: 40,000 @ 249.75p
Value: £99,900.00

Puretech Health (PRTC)
Director name: Chowrira,Bharatt
Amount purchased: 20,000 @ 346.00p
Value: £69,200.00

Manolete Partners (MANO)
Director name: Hurley,Leigh of
Amount purchased: 20,000 @ 240.00p
Value: £48,000.00

Melrose Industries (MRO)
Director name: Lawrence,Heather
Amount purchased: 25,000 @ 156.70p
Value: £39,175.00

Glaxosmithkline (GSK)
Director name: Barron ,Hal
Amount purchased: 2,369 @ $19.54
Value: $38,171.24

Ms International (MSI)
Director name: Lane-Smith,Roger
Amount purchased: 15,000 @ 208.00p
Value: £31,200.00

Oxford Biomedica (OXB)
Director name: Preston,Heather
Amount purchased: 2,235 @ 1,288.00p
Value: £28,786.80

Oxford Biomedica (OXB)
Director name: Rasty,Siyamak
Amount purchased: 2,235 @ 1,288.00p
Value: £28,786.80

Oakley Capital Investments Ltd. (di) (OCI)
Director name: Till,David
Amount purchased: 7,000 @ 359.00p
Value: £25,130.00

Melrose Industries (MRO)
Director name: Jarman ,Victoria
Amount purchased: 15,000 @ 158.33p
Value: £23,749.12

Tavistock Investments (TAVI)
Director name: Raven,Brian
Amount purchased: 437,000 @ 4.47p
Value: £19,533.90

Tavistock Investments (TAVI)
Director name: Cooke,Oliver Charles
Amount purchased: 328,500 @ 4.40p
Value: £14,454.00

Anglo American (AAL)
Director name: Chambers,Stuart J
Amount purchased: 491 @ 2,838.00p
Value: £13,934.58

Vietnam Holding Ltd (VNH)
Director name: Pierron,Damien
Amount purchased: 5,000 @ 264.00p
Value: £13,200.00

Ms International (MSI)
Director name: Lane-Smith,Roger
Amount purchased: 5,000 @ 202.00p
Value: £10,100.00

Aberdeen Asian Income Fund Ltd. (AAIF)
Director name: Florance ,Mark
Amount purchased: 3,000 @ 224.18p
Value: £6,725.25

Anglo American (AAL)
Director name: Nyembezi,Nonkululeko
Amount purchased: 216 @ 2,838.00p
Value: £6,130.08

Metalnrg (MNRG)
Director name: Gerritsen,Rolf
Amount purchased: 908,796 @ 0.54p
Value: £4,906.59

Oakley Capital Investments Ltd. (di) (OCI)
Director name: Till,David
Amount purchased: 1,000 @ 359.00p
Value: £3,590.00


Top Director Sells
Funding Circle Holdings (FCH)
Director name: White,Oliver
Amount sold: 113,410 @ 150.92p
Value: £171,155.76

Picton Property Income Ltd (PCTN)
Director name: Morris ,Michael
Amount sold: 186,213 @ 87.10p
Value: £162,191.52

Picton Property Income Ltd (PCTN)
Director name: Dewhirst,Andrew
Amount sold: 115,845 @ 87.10p
Value: £100,900.99

Personal Group Holdings (PGH)
Director name: Rees,Deborah
Amount sold: 876 @ 342.00p
Value: £2,995.92

Unite Group (UTG)
Director name: Lister,Joe
Amount sold: 328 @ 641.50p
Value: £2,104.12

Unite Group (UTG)
Director name: Smith,Richard
Amount sold: 328 @ 641.50p
Value: £2,104.12

Personal Group Holdings (PGH)
Director name: Lothian,Andy
Amount sold: 610 @ 206.00p
Value: £1,256.60

Personal Group Holdings (PGH)
Director name: Darby-Walker,Maria
Amount sold: 282 @ 319.00p
Value: £899.58