Scancell selects Covid-19 vaccine candidate for development and trials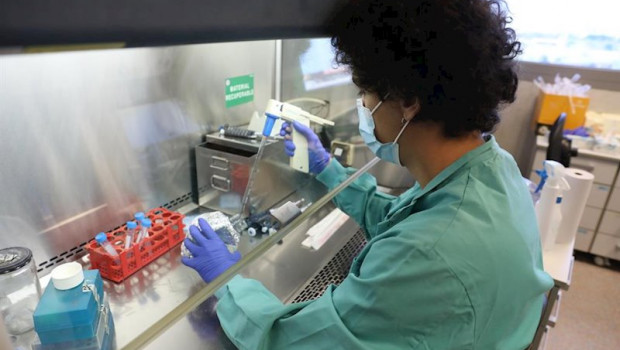 Immunotherapy developer Scancell has selected its Covid-19 vaccine candidate 'SN14' for further development and clinical trials, it announced on Friday.
The AIM-traded firm said SN14 targets both the SARS-CoV-2 nucleocapsid (N) protein, and the key receptor-binding domain of the spike (S) protein, and was based on a modification of Scancell's 'ImmunoBody' DNA vaccine technology.
It said 15 vaccine candidates containing different S and N components, combined with a variety of targeting technologies, were evaluated for the best T-cell and antibody responses.
SN14 reproducibly elicited high-titre anti-S virus neutralising antibodies, together with high avidity T-cells against both the S and N proteins, Scancell explained.
It said SN14 also incorporated its 'AvidiMab' technology to further enhance the immune response.
SN14 was described as a second generation vaccine, which offered several potential advantages over currently-approved and late-stage Covid-19 vaccines.
It explained that SN14 both targeted the S protein to induce virus neutralising antibodies that prevent the Covid-19 virus from entering cells, and induced "strong" T-cell responses to both the S and N proteins, to destroy virally-infected cells and prevent further viral replication.
As the N protein was "well-conserved" between coronaviruses, Scancell claimed the SN14 vaccine had the potential to be effective against any variant or new strain of coronavirus, in addition to the current Covid-19 strain.
Use of the 'AvidiMab' technology increased the potency of the T-cell response, the board claimed, which in turn should lead to long-term protection and immunological memory.
It also said that DNA vaccines were "exceptionally stable", did not require ultra-low temperature storage, and were manufactured using relatively simple processes.
As it reported in October, Scancell had entered into a collaboration with Cobra Biologics, part of the Cognate BioServices family, to conduct preliminary work leading to the manufacture of SN14 with the goal of starting a phase 1 'COVIDITY' clinical trial as soon as possible during 2021.
The project was funded by an Innovate UK grant awarded to a consortium between Scancell, the University of Nottingham and Trent University.
"We are very excited about our SN14 second generation Covid-19 vaccine which could have significant advantages over first generation vaccines, either on its own or in combination with other vaccines to broaden and strengthen the immune response for long term protection," said chief scientific officer Lindy Durrant.
At 1052 GMT, shares in Scancell Holdings were up 16.39% at 13.97p.