Quantum Blockchain surges on crypto mining progress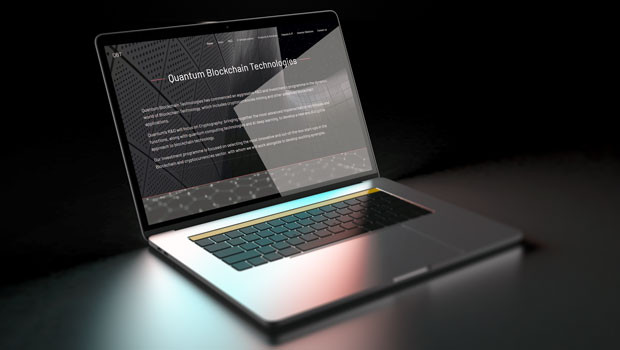 Quantum Blockchain Technologies updated the market on the current progress of its bitcoin mining research and development on Monday, reporting that it has moved from simulation testing and started live experimental mining on its platform using a standard version of the 'SHA-256' algorithm.
The AIM-traded firm said the main purpose of the mining was to collect real-time data to populate its existing 'Big Data' database, which would then be used by the research and development team with machine learning and data analysis tools.
It said the development had led to the first two knowledge-based algorithms, which govern the SHA-256 computation, being deployed, with mine testing now taking place.
"This is the final step of nearly a year's work by one of the company's two machine learning teams,"' the board said in its statement.
"A third machine learning team, which started work earlier this year, to develop an alternative solution to the two machine learning methods, has already delivered some innovative results.
"Both approaches have a 'probabilistic element' approach, which over time, represents a 'deterministic superiority'."
Quantum Blockchain said during testing, method 'A' had improved the performance in speed and energy consumption "significantly" compared to existing crypto mining hardware.
The company said the second knowledge-based mining approach- method 'B' - would need a proprietary ASIC chip which, if successful, could see probabilistic mining improved by several factors compared to deterministic mining using commercial chips.
"Theoretical analysis is currently showing a material improvement, but experimental testing is required to quantify it on a large number of real mining cases.
"The company is therefore assessing its competitive approach using GPU and FPGA chip technology, instead of ASIC, such is the expected potential of this new approach."
Subject to the confirmation of current testing, Quantum said it expected two new patent applications to be filed soon.
It said it also expected to soon start real bitcoin mining using method 'A', performed on the latest generation of GPU and FPGA.
The company's quantum computing development, meanwhile, was working on the "quantum version" of the SHA-256 algorithm, with a patent application to be filed once it achieves "theoretical confirmation".
"Importantly, the company has been performing simulations on an extremely scaled down simulated quantum version of the SHA-256 algorithm, which have produced exact results for the first time - a milestone achievement for QBT."
Over the next two months, the firm said it would aim to get theoretical evidence of whether the number of qubits available on the next generation of commercial quantum computers would be enough to sustain its full SHA-256 computation.
Finally, on the intellectual property front, Quantum Blockchain said the filing of the second patent for the SHA-256 optimisation was temporarily on hold.
The board said that was pending results of the performance of potential improvements, which it believed were an alternative to an existing patent, and within a similar speed and energy consumption order of magnitude.
An update on the patent would be made once a decision was reached.
"QBT is addressing an opportunity which represents a step-change for the bitcoin mining industry, and where our competitors have invested several years, hundreds of researchers and engineers, as well as tens of millions of pounds," said executive chairman and chief executive officer Francesco Gardin.
"After just one year, QBT is already in a position to start its knowledge-based bitcoin mining, using what we believe to be a unique and novel approach.
"The results of our bitcoin mining endeavours during the next few months will determine the real value of our approach."
Gardin said at the same time, the firm was continuing to improve the chip design of ASIC based traditional mining by optimising the SHA-256 algorithm and its silicon implementation.
"Our quantum computing team has now successfully achieved its first correct quantum computation of a reduced size version SHA-256 and is now scaling up to the full SHA-256.
"The complexity of the task makes predicting the timeframe for publishing new results and operational updates difficult."
The company had more than 20 "world-class experts" working in its research and development team, Francesco Gardin noted, to achieve the results.
"We will endeavour to communicate more frequently with our shareholders.
"We strongly believe that our efforts are taking QBT into a new direction of bitcoin mining and ask for shareholders' patience until these efforts are rewarded by success."
At 1303 BST, shares in Quantum Blockchain Technologies were up 19.32% at 2.21p
Reporting by Josh White at Sharecast.com.