EasyHotel pre-lets all office space at flagship Old Street site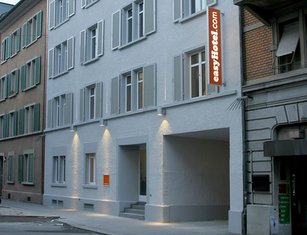 Budget hotel operator easyHotel has pre-let all 15,500 square feet of self-contained office accommodation at its property on the 80 Old Street, London refurbishment project to a single tenant, it announced on Thursday.
The AIM-traded company said the offices had been pre-let on a ten-year fully repairing and insuring lease at an annual rent of £59.50 per square foot, with an upward-only rent review at the five year mark.
There would be an initial rent-free period, it confirmed.
The new tenant - Knotel - was described by easyHotel as a global flexible office operator that currently managed more than three million square feet of space across 200 locations in places such as New York, San Francisco, Los Angeles, Sao Paulo, and Berlin, as well as London.
It said the self-contained air-conditioned offices were on the upper floors - the third, fourth and fifth levels - of the property, and included a roof terrace.
The offices had a dedicated reception area, for which Knotel would pay an additional rent of £29.75 per square foot.
It said its newly-refurbished 89-bedroom hotel on the ground, first and second floors was due to open in June.
At the end of September last year, the net book value of 80 Old Street was £12.9m.
Since that time, easyHotel said it had invested around £7m refurbishing the entire property.
Based on preliminary advice, the board said it believed that on completion of the project and reopening of its London flagship hotel, the freehold property was likely to be valued at the current year-end at "substantially more" than its current book value.
"With the office space now let and the newly refurbished hotel on track to open in June, both ahead of plan, we continue to be very pleased with the outcome of the redevelopment programme at Old Street," said easyHotel chief executive Guy Parsons.
"The recent preliminary valuation of the office space alone is also very encouraging, with the incremental increase in the value of the whole site already representing an immediate return on investment for shareholders."