US House of Representatives votes to limit Trump's war powers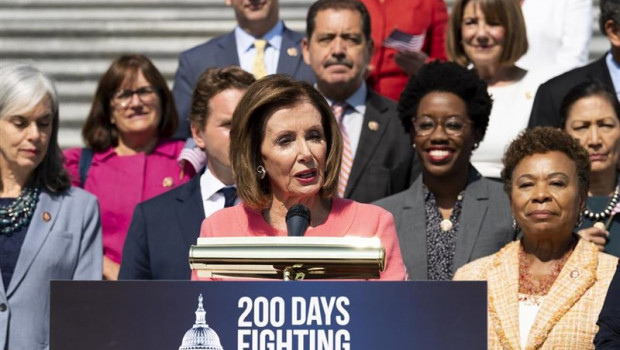 The US House of Representatives approved a resolution to limit Donald Trump's power to decide on taking military action in Iran.
Yet while it passed in the Democratic-controlled House, it was unlikely to pass muster in the Senate, which was controlled by Republicans. Voting in the lower chamber of Congress largely followed party lines and something similar was expected to occur in the Senate.
The motion, sponsored by Democrat Elissa Slotkin, a former CIA agent, sought to bar the president from being able to undertake further military action in the Middle East without approval from Congress.
The resolution was passed by a margin of 224-194 on Thursday, with nearly all the Democratic congressmen voting in favour of the measure and Republicans against.
Representative Matt Gaetz of Florida, a staunch defender of Trump, was one of the Republicans who broke with the party, saying: "If our service members have the courage to fight and die in these wars, Congress ought to have the courage to vote for or against them."
Nancy Pelosi, the Democratic speaker of the House, insisted that the House resolution had "real teeth", telling reporters before Thursday's vote: "America and the world cannot afford war.
"Last week, in our view, the administration conducted a provocative, disproportionate air strike against Iran which endangered Americans, and did so without consulting Congress."
Earlier on Thursday, Trump said on Twitter that he hoped all House Republicans would "vote against crazy Nancy Pelosi's war powers resolution".
Democrats and some Republicans criticized Trump's decision last week to target Iranian general Qassem Soleimani, expressing concerns about the transparency of the intelligence that led to the decision to kill Soleimani and the reportedly poor briefing they received on the matter.
Republican senator from Kentucky, Tim Lee Carter called the briefing "probably the worst" he had received on a "military issue" during his nine-year congressional career.
Lee's comments were echoed by Chris Murphy, a Democratic senator from Connecticut, who said: "The bottom line is this: I did not hear evidence of a specific imminent threat that would allow an attack without congressional authorisation. With consequences as serious as these, that is unacceptable."
In response to the US strike, which itself followed an assault by an angry mob against the American embassy in Baghdad and a long list of other actions and provocations by Tehran which had claimed the lives of thousands of US personnel, Iran refused Trump's call for a new nuclear pact, and its commanders threatened more attacks, fueling worries that an apparent pause in the US-Iran conflict could be short-lived.