Trump arrives in UK for controversial first visit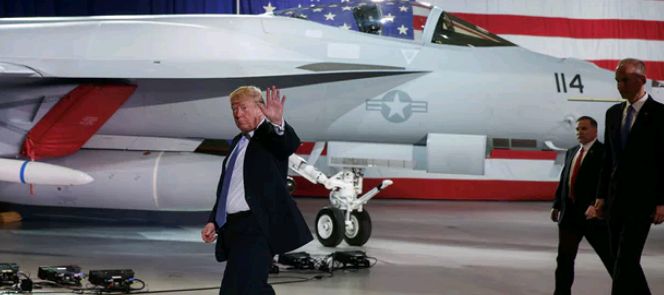 US President Donald Trump arrived in the UK on Thursday for a controversial four-day visit for talks with his counterpart Theresa May and tea with the Queen.
His plane touched down at Stansted airport, in Essex, from Brussels, where he had spent two days at the NATO summit, where he claimed to have forced European leaders to commit a further $33bn in spending to the alliance.
The unpredictable leader is expected to stay in Britain until Sunday evening, before heading to Finland for for a summit with Russian leader Vladimir Putin in Helsinki.
His visit is likely to be marked by large demonstrations, including a giant Trump baby blimp flown over Westminster. In order to keep contact with the general public to an absolute minimum, the president will be steered towards palaces or country estate homes.
It is unlikely he will come face to face with the large balloon depicting him as an orange baby dressed in a nappy and carrying a smartphone.
Earlier in the day he called the UK "a hot spot with many resignations" in a reference to the Brexit turmoil that has engulfed May's government in the last week with two Cabinet minister resigning over her plans for a soft departure from the EU.