S4 Capital reiterates full-year guidance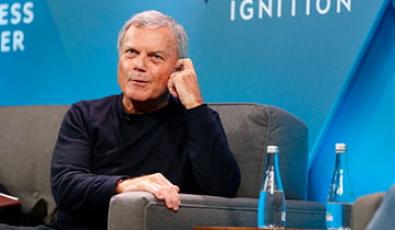 S4 Capital reiterated its full-year targets on Friday, despite seeing more "modest" revenue growth in 2023.
Speaking at the digital advertising and marketing firm's annual general meeting, executive chair Martin Sorrell said 2022 had been very strong, with like-for-like net revenue growth of 26%.
In contrast, the first four months 2023 had been more modest, he noted, caused by a slowdown in growth rates in the two main addressable markets: technology platforms and technology services.
However, he maintained like-for-like 2023 net revenue growth guidance, despite the slower start. It is forecasting growth of between 6% and 10%, or between 8% and 12% once the impact of one so-called "whopper" reduction was excluded. S4C classes major clients with revenues of over $20m as whoppers.
S4 Capital is also targeting a "steady improvement" in operational earnings before interest, tax, depreciation and amortisation margin, to 15%-16%, with operational EBITDA "significantly" skewed to the second half "as usual".
Sorrell concluded: "Having achieved brand awareness and brand trial over our first five years, our focus remains on broadening and deepening existing client relationships and conversion at scale.
"Our ten biggest clients achieved whopper status in 2022, compared with six this time last year, but we still search for bigger and deeper relationships, and a further 14 clients have been identified as having whopper potential over the three-year plan period 2023 to 2025."
S4 Capital was founded by advertising veteran Sorrell, who recently revealed he had undergone treatment for cancer, in 2018. The company now employs around 8,700 people in 32 countries.
As at 1130 BST, shares in S4C were down 3% at 124.96p.