Adjusted profit surges in TheWorks' maiden results as listed firm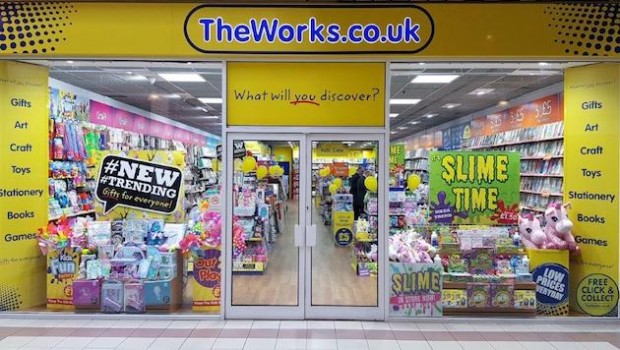 Discount books and stationery retailer TheWorks.co.uk reported a 13.2% improvement in revenue in its preliminary results on Wednesday, to £217.5m.
The London-listed firm said like-for-like sales growth for the 52 weeks ended 28 April stood at 3%, down from 4.7% the year before, while adjusted EBITDA was 4.2% higher at £13.8m.
Adjusted profit before tax surged 58.6% to £6.7m, while the board explained that adjusted profit before tax was £7.4m after normalising net finance charges to reflect the full-year impact of the post-IPO debt structure.
Profit before tax fell 9.6% to £2.3m.
Adjusted basic earnings per share were up 25% at 9p, while basic earnings per share fell 52.5% to 1.9p.
Proforma adjusted basic and diluted earnings per share, reflecting the current share capital structure for the full year, were 8.4p - up 65%, according to TheWorks.
The board said the company was in a "strong" financial position at year-end, with net cash of £2.9m, compared to net debt of £24.5m a year earlier.
It proposed a maiden final dividend of 2.4p, taking the full-year dividend to 3.6p.
On the operational front, TheWorks opened a net 50 new stores in the year, taking its total store estate to 497.
It reported "strong" returns on new store openings, ahead of those delivered in recent years with current payback within a year, and explained it was on track to deliver another 50 net new store openings in the current year.
TheWorks said it saw positive like-for-like growth, driven by growth both in stores and online, pointing to its "enhanced" product proposition, providing customers with "new, great value" products driving what it called "product discovery" in store.
It claimed to have identified and capitalised on the Squishies 'mega trend', driving an incremental £0.6m of EBITDA, which it compared to the £1.2m of incremental EBITDA driven by the fidget spinners 'mega trend' in the prior year.
TheWorks said it had leveraged opportunities for additional sales in-store, due to growth of its click and collect sales channel.
Looking at its multichannel proposition, the company said it had refreshed its online customer journey and in-store processes for click and collect, driving more than half a million additional customer visits in the year.
It also launched a transactional website in the Republic of Ireland, and drove "strong growth" in loyalty membership, with active members increasing by 0.7 million to 1.8 million.
The company outsourced all online fulfilment operations to a third party during the year, in a bid to support online range extensions and efficient servicing of stores in the medium term.
That led to an increased cost base in the short term, due to "operational challenges" faced during the first peak trading period.
On the subject of margins, TheWorks said it saw continued improvement in product gross margins, as a result of its ongoing focus on cost control, with that remaining central to its philosophy and culture.
For the nine weeks to 30 June, the board said like-for-like sales growth was "marginally" negative, but ahead one percentage point excluding the impact of the prior year 'mega trend'.
It had opened a net nine new stores in the new financial year, including its 500th store.
"In our first year as a listed business, I am pleased that TheWorks.co.uk has achieved good growth, underpinned by our clear strategy and a consistent focus on our customers," said chief executive officer Kevin Keaney.
"Opening new stores remains our biggest driver of growth and we have taken advantage of the favourable property market by opening a net 50 new stores in the year.
"We delivered good like-for-like sales across all channels, as our continued focus on product newness and our nimble buying strategy enabled us to anticipate customer demand for current trends and seasonal ranges."
Keaney said the company's "solid performance" was also driven by its multi-channel proposition, which he said offered customers more flexibility and convenience in how they shopped.
"We are particularly pleased with the performance of our click and collect service, which remains our fastest growing channel and resulted in half a million additional customer visits to our stores.
"Underlying like-for-like sales in the first nine weeks of the current year have improved since the final quarter of last year to 1%.
"This was achieved against a consumer backdrop that remains subdued and we are now assuming that this will continue for the foreseeable future."
It remained a challenging environment, Keaney added, however he said it also created opportunities for the business.
"The structural shift in the retail sector has resulted in a constant flow of more affordable, good quality retail space.
"We have a full pipeline of new sites and recent openings have continued to perform well [and] we also have exciting plans for Christmas - the key period in leveraging our differentiated customer proposition - by offering a wide range of new products at outstanding value.
"This, combined with our other growth levers, makes us confident of making further progress in the current year."