US close: Stocks slump after grim March non-farm payrolls data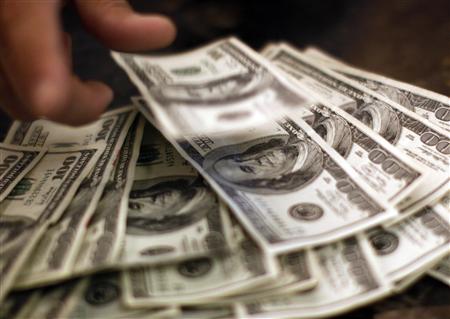 Stocks on Wall Street finished lower on Friday after data revealed that non-farm payrolls collapsed in March, although a rally in crude oil futures helped to stem losses.
By the end of trading, the Dow Jones Industrial Average was down 1.69% at 21,052.53, while the S&P 500 was 1.51% weaker at 2,488.65 and the Nasdaq Composite lost 1.53% to 7,373.08.
Volatility was also lower however, with the CBoE's VIX volatility index erasing 8.07% to 46.80.
The main focus for investors on Friday was news that the US jobs market deteriorated massively in March as the Covid-19 pandemic began sweeping across the country and some state authorities moved to a lockdown.
According to the Department of Labor, non-farm payrolls collapsed by 701,000 (consensus: -81,000), with travel & leisure accounting for the bulk of employment losses as companies in that sector shed 459,000 workers.
In parallel, the unemployment rate shot higher, from 3.5% for February to 4.4% in March (consensus: 3.8%).
With more than ten million Americans, roughly 3% of the population, signing up for unemployment in the last two weeks alone, Friday's jobs report was at the centre of attention for most investors.
Also in focus, crude oil futures extended the previous day's rally following reports that Russian oil producers were prepared to reduce their own output to help stem the rout in prices.
West Texas Intermediate put on 11.93% to end the day at $28.34 a barrel on NYMEX.
According to Bloomberg, which cited five people familiar with the situation, the Russian oil industry was ready to participate in production cuts alongside other producers and the fallout from the Covid-19 pandemic may force the Kremlin's hand.
Elsewhere, Donald Trump claimed overnight that the Covid-19 special committee launched by House Speaker Nancy Pelosi was simply an extension of the impeachment proceedings his administration survived just before the pandemic placed him under the spotlight again.
"Here we go again," Trump said at a White House news briefing. "Witch hunt after witch hunt after witch hunt."
Global cases of Covid-19 have topped one million, claiming 54,226 lives along the way. 245,380 cases have been recorded in the US.
Elsewhere on the macro front, IHS Markit's services PMI fell to 39.8 in March, down from 49.4 in February, indicating that economic activity in the service sector had contracted sharply during the month. The composite PMI fell to 40.9 in March from 49.6.
Lastly, US services and other non-manufacturing companies reported continued growth in March, however, it at came at the slowest pace since August 2016, according to the Institute for Supply Management. The ISM's services index was 52.5% in March after a 57.3% reading in the prior month.
Dow Jones - Risers
Pfizer Inc. (PFE) $33.64 2.34%
Boeing Co. (BA) $124.52 1.01%
Walgreens Boots Alliance, Inc. (WBA) $40.72 0.99%
Johnson & Johnson (JNJ) $134.17 0.77%
Walmart Inc. (WMT) $119.48 0.70%
Procter & Gamble Co. (PG) $115.08 0.59%
Dowdupont Inc. (DWDP) $30.52 0.00%
Raytheon Technologies Corporation (RTX) $86.01 0.00%
Coca-Cola Co. (KO) $43.83 -0.27%
Intel Corp. (INTC) $54.13 -0.40%
Dow Jones - Fallers
Unitedhealth Group Inc. (UNH) $229.49 -4.55%
American Express Co. (AXP) $73.60 -3.99%
JP Morgan Chase & Co. (JPM) $84.05 -3.95%
Visa Inc. (V) $151.85 -3.52%
Travelers Company Inc. (TRV) $93.89 -3.40%
International Business Machines Corporation (CDI) (IBM) $106.34 -3.33%
Walt Disney Co. (DIS) $93.88 -3.19%
3M Co. (MMM) $133.79 -2.99%
Exxon Mobil Corp. (XOM) $39.21 -2.95%
Goldman Sachs Group Inc. (GS) $146.93 -2.00%
S&P 500 - Risers
Arconic Inc. (ARNC) $8.06 29.79%
Apache Corp. (APA) $5.38 14.71%
L Brands Inc (LB) $11.34 11.72%
Diamondback Energy Inc. (FANG) $31.59 8.74%
Under Armour, Inc. (UA) $7.48 8.56%
Macy's Inc. (M) $4.81 8.09%
Devon Energy Corp. (DVN) $8.38 7.57%
Carnival Corp. (CCL) $8.49 6.52%
Simon Property Group Inc. (SPG) $46.72 6.16%
Under Armour Inc. Class A (UAA) $8.22 5.52%
S&P 500 - Fallers
Xerox Corp. (XRX) $16.90 -8.55%
Foot Locker Inc. (FL) $18.32 -8.22%
MGM Resorts International (MGM) $10.58 -8.08%
Discover Financial Services (DFS) $28.53 -7.94%
Wynn Resorts Ltd. (WYNN) $48.50 -7.92%
Vulcan Materials Co. (VMC) $99.21 -7.54%
Ralph Lauren Corp (RL) $61.00 -7.53%
Synchrony Financial (SYF) $13.25 -7.41%
Huntington Bancshares Inc. (HBAN) $6.83 -7.33%
DaVita Inc (DVA) $65.52 -6.80%
Nasdaq 100 - Risers
Tesla Inc (TSLA) $480.01 5.62%
Kraft Heinz Co. (KHC) $25.32 2.76%
Incyte Corp. (INCY) $78.59 1.97%
Maxim Integrated Products Inc. (MXIM) $48.64 1.84%
Expedia Group Inc. (EXPE) $48.71 1.78%
Gilead Sciences Inc. (GILD) $78.21 1.60%
Autodesk Inc. (ADSK) $139.00 1.42%
Align Technology Inc. (ALGN) $154.20 1.40%
PACCAR Inc. (PCAR) $61.61 1.22%
Walgreens Boots Alliance, Inc. (WBA) $40.72 0.99%
Nasdaq 100 - Fallers
Wynn Resorts Ltd. (WYNN) $48.50 -7.92%
American Airlines Group (AAL) $9.39 -6.66%
Marriott International - Class A (MAR) $59.08 -6.22%
Qurate Retail Inc. (QRTEA) $5.45 -5.87%
Ross Stores Inc. (ROST) $74.75 -5.86%
Sirius XM Holdings Inc (SIRI) $4.48 -5.68%
DENTSPLY Sirona Inc. (XRAY) $35.45 -5.39%
Workday, Inc. (WDAY) $116.08 -5.14%
Hasbro Inc (HAS) $66.94 -4.96%
Nvidia Corp. (NVDA) $243.91 -4.52%