US close: Stocks mixed as recession fears remain in focus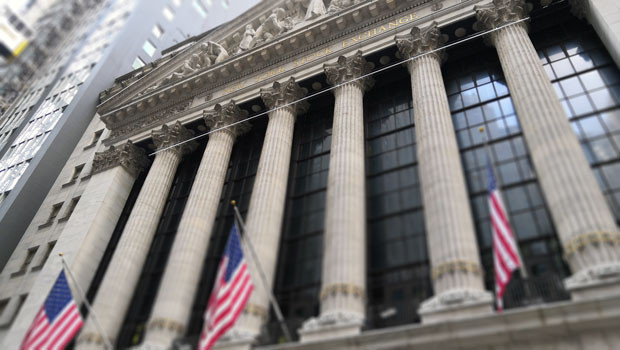 Wall Street stocks turned in a mixed performance on Tuesday as the US dollar rallied against the Euro and recession fears returned to the forefront of investors' minds.
At the close, the Dow Jones Industrial Average was down 0.42%% at 30,967.82, while the S&P 500 was 0.16% firmer at 3,831.39 and the Nasdaq Composite saw out the session 1.75% stronger at 11,322.24.
The Dow closed 129.44 points lower on Tuesday, taking a bite out of gains recorded ahead of the Independence Day long weekend.
The blue-chip Dow headed south as the dollar moved higher against the Euro, up around 1.52% at roughly 0.973 at the close of trading on Tuesday - the USD's strongest level against its European counterpart since 2003.
The Euro's decline comes after Eurozone PMIs highlighted recession risks in the bloc, slipping to a 16-month low. If the European Central Bank fails to meet its objective of tapering inflation soon, some economists believe it likely that the EUR and USD will be at parity in the not-to-distant future.
Also in focus, traders were optimistic that the Biden administration may roll back several tariffs imposed on China during the Donald Trump era as part of an effort to ease inflation.
However, concerns regarding economic growth continued to hang over market participants as the US looks to recover from a brutal first half, which saw GDP decline in both quarters - a potential recession indicator.
Another potential recession signal was also drawing an amount of investor attention as the two-year and 10-year Treasury yields inverted after the benchmark 10-year note continued to move lower despite the Fed vowing to aggressively battle inflation. The 10-year note was sitting at 2.805% on Tuesday, while its two-year equivalent was at 2.829%.
Elsewhere, the price of oil also declined, with futures in US benchmark West Texas Intermediate falling below $100 a barrel.
On the macro front, new orders for US manufactured goods rose 1.6% month-on-month in May, according to the Census Bureau, beating Wall Street estimates for a 0.5% gain and following an upwardly revised 0.7% increase in April.
No major corporate earnings were slated for release on Tuesday.
Reporting by Iain Gilbert at Sharecast.com
Dow Jones - Risers
Nike Inc. (NKE) $104.32 3.10%
Salesforce.Com Inc. (CRM) $172.20 2.38%
Apple Inc. (AAPL) $141.56 1.89%
Home Depot Inc. (HD) $283.73 1.67%
Walmart Inc. (WMT) $124.25 1.32%
Microsoft Corp. (MSFT) $262.85 1.26%
Walt Disney Co. (DIS) $97.18 1.08%
Intel Corp. (INTC) $36.69 0.96%
Visa Inc. (V) $200.54 0.68%
3M Co. (MMM) $129.20 0.56%
Dow Jones - Fallers
Chevron Corp. (CVX) $142.66 -2.63%
Caterpillar Inc. (CAT) $173.76 -2.54%
International Business Machines Corporation (CDI) (IBM) $137.62 -2.48%
Unitedhealth Group Inc. (UNH) $505.24 -2.35%
Travelers Company Inc. (TRV) $167.23 -2.33%
Dow Chemical Co. (DOW) $50.73 -1.86%
Coca-Cola Co. (KO) $63.29 -1.71%
Boeing Co. (BA) $137.70 -1.53%
Cisco Systems Inc. (CSCO) $41.96 -1.50%
JP Morgan Chase & Co. (JPM) $112.62 -1.25%
S&P 500 - Risers
Norwegian Cruise Line Holdings Ltd (NCLH) $12.46 9.97%
Carnival Corp. (CCL) $9.38 6.35%
Micron Technology Inc. (MU) $56.73 5.74%
American Airlines Group (AAL) $13.88 5.71%
Dollar Tree Inc (DLTR) $164.84 5.48%
Meta Platforms Inc. (META) $168.19 5.10%
Advance Auto Parts (AAP) $182.35 4.99%
Best Buy Co. Inc. (BBY) $69.97 4.81%
Nektar Therapeutics (NKTR) $3.93 4.80%
Macerich Co (MAC) $9.35 4.70%
S&P 500 - Fallers
Halliburton Co. (HAL) $28.89 -8.08%
FMC Technologies Inc. (FTI) $6.13 -7.53%
Helmerich & Payne Inc. (HP) $40.25 -7.49%
Apache Corp. (APA) $32.73 -7.41%
ConocoPhillips (COP) $84.64 -6.97%
Hess Corp. (HES) $98.24 -6.83%
Freeport-McMoRan Inc (FCX) $27.26 -6.64%
Schlumberger Ltd. (SLB) $33.33 -6.51%
Marathon Oil Corp. (MRO) $21.13 -6.30%
Eog Resources Inc. (EOG) $104.82 -6.09%
Nasdaq 100 - Risers
Mercadolibre Inc. (MELI) $713.57 8.12%
Micron Technology Inc. (MU) $56.73 5.74%
American Airlines Group (AAL) $13.88 5.71%
Dollar Tree Inc (DLTR) $164.84 5.48%
Meta Platforms Inc. (META) $168.19 5.10%
Alphabet Inc. Class C (GOOG) $2,277.74 4.41%
Paypal Holdings Inc (PYPL) $74.40 4.20%
Alphabet Inc. Class A (GOOGL) $2,265.26 4.16%
Amazon.Com Inc. (AMZN) $113.50 3.60%
Ross Stores Inc. (ROST) $73.82 3.42%
Nasdaq 100 - Fallers
Trip.com Group Limited (TCOM) $26.00 -6.44%
Asml Holdings N.V. (ASML) $432.40 -3.87%
CSX Corp. (CSX) $28.51 -2.83%
JD.com, Inc. (JD) $64.73 -1.85%
Lam Research Corp. (LRCX) $388.77 -1.53%
Cisco Systems Inc. (CSCO) $41.96 -1.50%
Vodafone Group Plc ADS (VOD) $15.38 -1.47%
Mondelez International Inc. (MDLZ) $62.48 -1.36%
Kraft Heinz Co. (KHC) $38.12 -1.35%
Liberty Global plc Series C (LBTYK) $22.33 -1.33%