US close: Stocks lower as trade gap widens in November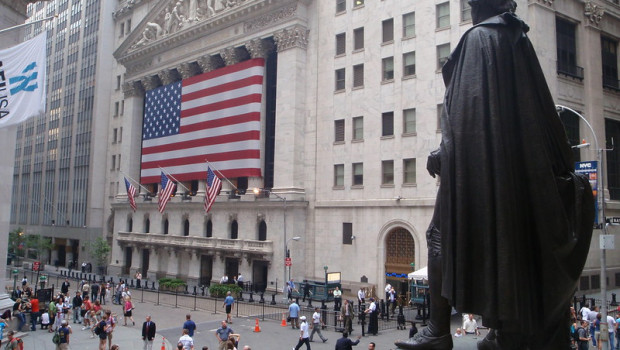 Wall Street stocks were in the red at the close of trading on Tuesday after the Commerce Department revealed that the US trade deficit had widened in November.
At the close, the Dow Jones Industrial Average was down 1.03% at 33,596.34, while the S&P 500 lost 1.44% to 3,941.26 and the Nasdaq Composite saw out the session 2.0% weaker at 11,014.89.
The Dow closed 350.76 points lower on Tuesday, extending losses recorded in the previous session.
The US trade deficit was in focus throughout the session, with the gap widening to $78.2bn in October from $74.1bn in September, according to the Commerce Department, the second consecutive increase after contracting for the prior six months. Exports fell by $1.9bn, while imports rose by $2.2bn, as a decline in consumer goods imports was offset by a rebound in industrial supplies and other goods imports.
Also drawing an amount of investor attention was news that Beijing city will no longer require negative Covid tests to enter the majority of public spaces, malls, or residential areas.
Elsewhere, the spread on the two and ten-year treasuries notes was at its most inverted level in more than four decades, with the yield on the benchmark 10-year Treasury note and its two-year counterpart at 3.540% and 4.375%, respectively.
In the corporate space, gunmaker Smith & Wesson said sales had slumped 47% in the second quarter amid falling demand for firearms, while Stitch Fix lowered its full-year guidance on the back of falling sales and lower demand for its clothing.
Reporting by Iain Gilbert at Sharecast.com
Dow Jones - Risers
Unitedhealth Group Inc. (UNH) $539.32 0.80%
Travelers Company Inc. (TRV) $188.52 0.69%
JP Morgan Chase & Co. (JPM) $131.49 0.17%
Procter & Gamble Co. (PG) $149.28 0.13%
McDonald's Corp. (MCD) $271.74 0.07%
International Business Machines Corporation (CDI) (IBM) $147.40 0.06%
Dowdupont Inc. (DWDP) $0.00 0.00%
Honeywell International Inc. (HON) $0.00 0.00%
3M Co. (MMM) $124.58 -0.04%
Coca-Cola Co. (KO) $63.44 -0.05%
Dow Jones - Fallers
Walt Disney Co. (DIS) $92.29 -3.79%
Boeing Co. (BA) $178.40 -3.60%
Chevron Corp. (CVX) $172.01 -2.58%
Apple Inc. (AAPL) $142.91 -2.54%
Goldman Sachs Group Inc. (GS) $362.79 -2.32%
Visa Inc. (V) $209.07 -2.15%
Microsoft Corp. (MSFT) $245.12 -2.03%
Intel Corp. (INTC) $28.60 -1.95%
Caterpillar Inc. (CAT) $227.97 -1.84%
Nike Inc. (NKE) $107.91 -1.54%
S&P 500 - Risers
Textron Inc. (TXT) $73.57 5.25%
CenturyLink Inc. (LUMN) $5.40 3.85%
Arconic Inc. (ARNC) $22.72 2.43%
Estee Lauder Co. Inc. (EL) $236.54 2.41%
AT&T Inc. (T) $19.17 2.24%
United Airlines Holdings Inc (UAL) $45.92 1.98%
Everest Re Group Ltd. (RE) $336.73 1.87%
CMS Energy Corp. (CMS) $61.03 1.85%
Dxc Technology Company (DXC) $27.80 1.61%
DTE Energy Co. (DTE) $115.87 1.59%
S&P 500 - Fallers
NRG Energy Inc. (NRG) $34.68 -15.08%
Meta Platforms Inc. (META) $114.12 -6.79%
Sl Green Realty Corp. (SLG) $35.56 -6.57%
Take-Two Interactive Software Inc. (TTWO) $101.27 -5.34%
Nordstrom Inc. (JWN) $18.38 -5.25%
Travel + Leisure Co (TNL) $36.60 -4.97%
Eog Resources Inc. (EOG) $127.50 -4.73%
Advanced Micro Devices Inc. (AMD) $70.27 -4.55%
Fidelity National Information Services Inc. (FIS) $69.73 -4.31%
Svb Financial Group (SIVB) $200.26 -4.29%
Nasdaq 100 - Risers
JD.com, Inc. (JD) $60.35 1.98%
American Airlines Group (AAL) $14.33 1.56%
Trip.com Group Limited (TCOM) $33.11 1.25%
Baidu Inc. (BIDU) $117.33 0.35%
PACCAR Inc. (PCAR) $103.67 0.30%
J.B. Hunt Transport Services Inc. (JBHT) $177.69 0.03%
Alexion Pharmaceuticals Inc. (ALXN) $0.00 0.00%
Maxim Integrated Products Inc. (MXIM) $0.00 0.00%
Xilinx Inc. (XLNX) $0.00 0.00%
Cerner Corp. (CERN) $0.00 0.00%
Nasdaq 100 - Fallers
Meta Platforms Inc. (META) $114.12 -6.79%
Take-Two Interactive Software Inc. (TTWO) $101.27 -5.34%
Charter Communications Inc. (CHTR) $371.17 -4.29%
Hasbro Inc (HAS) $60.57 -4.22%
Nvidia Corp. (NVDA) $159.87 -3.75%
Expedia Group Inc. (EXPE) $96.91 -3.73%
Illumina Inc. (ILMN) $205.98 -3.68%
Amazon.Com Inc. (AMZN) $88.25 -3.03%
QUALCOMM Inc. (QCOM) $119.78 -2.85%
Western Digital Corp. (WDC) $33.89 -2.59%