US close: Stocks finish mixed as services data surprises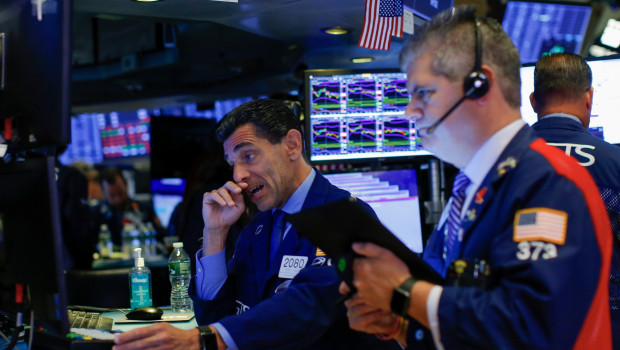 Stocks on Wall Street finished in a mixed state on Tuesday, amid continued positive comments coming out of the ongoing US-China trade talks, and after the release of some surprising economic data.
The Dow Jones Industrial Average ended the session up 0.11% at 27,492.63 and the Nasdaq Composite was ahead 0.02% at 8,434.68, while the S&P 500 turned negative to fall 0.12%, closing at 3,074.62.
Speaking overnight, in remarks ahead of the opening of the second annual China International Import Expo, Chinese leader Xi Jinping said: "We must all put the common good of humanity first rather than place one's own interests above the common interests of all."
At the same time, citing people briefed on the discussions, Bloomberg reported that Chinese and US officials were "wrangling" over to what degree Washington needed to roll-back previous trade tariffs.
That came even as US commerce secretary, Wilbur Ross voiced "reasonable optimism" that the two sides could get "something done" and that a phase one accord would be a precursor for a much more robust set of agreements.
On the economic front, the Institute for Supply Management's (ISM) non-manufacturing purchasing managers' index (PMI) surprised market watchers, coming in at 54.7 for October.
That was an improvement from the 52.6 print in September, and was well ahead of consensus expectations for a reading of 52.5.
The country's trade balance was also in the mix, narrowing to -$52.5bn for September, from a revised $55bn in August.
According to the data, exports were down 0.9% in September and imports shrank 1.7%, swinging from growth of 0.2% for exports and 0.5% for imports in the prior month.
Total US exports were said to be $205.99bn for the month, down from $207.83bn, while total imports shrank to $258.44bn from $262.86bn in August.
In corporate news, shares of Uber were 9.85% lower after the company posted a wider loss of $1.16bn for its third quarter.
Chesapeake Energy Corporation plunged 17.95%, after the oil and gas outfit reported slightly larger-than-expected losses per share of 11 cents on an adjusted basis, alongside a moderate miss on its topline, which shrank by 14.8% to $2.06bn.
Mylan reversed early gains to finish down 9.88%, following better-than-expected third quarter profits of $189.8m or $1.17 cents per share on an adjusted basis, together with upbeat guidance.
Allergan shares also fell below the waterline at the end of a choppy session, slipping 0.22% after it announced a quarterly loss of $786.8m, although that was almost entirely due to a $750.0m charge for settling an antitrust lawsuit for its treatment of Alzheimer's, Namenda.
Dow Jones - Risers
Walgreens Boots Alliance, Inc. (WBA) $61.21 2.62%
Boeing Co. (BA) $358.29 2.05%
Exxon Mobil Corp. (XOM) $73.09 1.98%
McDonald's Corp. (MCD) $192.18 1.87%
Walmart Inc. (WMT) $118.86 1.10%
Travelers Company Inc. (TRV) $131.27 0.82%
Cisco Systems Inc. (CSCO) $47.76 0.59%
Chevron Corp. (CVX) $121.94 0.30%
United Technologies Corp. (UTX) $147.85 0.23%
JP Morgan Chase & Co. (JPM) $129.12 0.22%
Dow Jones - Fallers
Pfizer Inc. (PFE) $37.48 -1.45%
Visa Inc. (V) $176.37 -1.44%
Coca-Cola Co. (KO) $52.42 -1.35%
Merck & Co. Inc. (MRK) $82.92 -1.17%
Home Depot Inc. (HD) $232.20 -1.16%
Walt Disney Co. (DIS) $131.45 -1.11%
American Express Co. (AXP) $118.77 -0.71%
Verizon Communications Inc. (VZ) $59.50 -0.62%
Goldman Sachs Group Inc. (GS) $218.64 -0.56%
Unitedhealth Group Inc. (UNH) $250.30 -0.38%
S&P 500 - Risers
Kroger Co. (KR) $27.83 11.36%
International Flavors & Fragrances Inc. (IFF) $134.46 8.43%
Regeneron Pharmaceuticals Inc. (REGN) $332.60 6.93%
Under Armour, Inc. (UA) $16.31 5.63%
Macy's Inc. (M) $16.71 5.43%
Ipg Photonics Corp. (IPGP) $153.10 5.22%
Hartford Financial Services Group Inc. (HIG) $60.39 4.97%
Xerox Corp. (XRX) $36.37 4.90%
Under Armour Inc. Class A (UAA) $17.90 4.43%
Adobe Systems Inc. (ADBE) $289.29 4.25%
S&P 500 - Fallers
Mylan Inc. (MYL) $17.79 -9.88%
Becton, Dickinson & Company (BDX) $246.68 -5.38%
Occidental Petroleum Corp. (OXY) $41.92 -5.25%
Idexx Laboratories Inc. (IDXX) $264.15 -5.21%
IQVIA Holdings Inc. (IQV) $139.89 -4.51%
Zoetis Inc (ZTS) $120.25 -3.61%
Teleflex Inc. (TFX) $336.22 -3.56%
Newmont Mining Corp. (NEM) $37.55 -3.45%
Cabot Oil & Gas Corp. (COG) $18.11 -3.41%
Stryker Corp. (SYK) $198.37 -3.31%
Nasdaq 100 - Risers
Regeneron Pharmaceuticals Inc. (REGN) $332.60 6.93%
Adobe Systems Inc. (ADBE) $289.29 4.25%
Ulta Salon, Cosmetics & Fragrance Inc. (ULTA) $245.42 3.47%
Henry Schein Inc. (HSIC) $67.73 3.04%
Broadcom Inc. (AVGO) $314.04 2.96%
Qurate Retail Inc. (QRTEA) $9.75 2.96%
Marriott International - Class A (MAR) $133.69 2.71%
Walgreens Boots Alliance, Inc. (WBA) $61.21 2.62%
Analog Devices Inc. (ADI) $113.45 1.85%
Check Point Software Technologies Ltd. (CHKP) $113.39 1.65%
Nasdaq 100 - Fallers
Mylan Inc. (MYL) $17.79 -9.88%
Idexx Laboratories Inc. (IDXX) $264.15 -5.21%
NetEase Inc. Ads (NTES) $294.04 -4.45%
Automatic Data Processing Inc. (ADP) $157.01 -3.01%
Workday, Inc. (WDAY) $161.38 -2.31%
DENTSPLY Sirona Inc. (XRAY) $54.90 -2.16%
Hasbro Inc (HAS) $95.79 -1.95%
Micron Technology Inc. (MU) $48.68 -1.84%
Paypal Holdings Inc (PYPL) $100.99 -1.77%
Netflix Inc. (NFLX) $288.03 -1.65%